| | |
| --- | --- |
| Power Bonuses | |
Welcome to the WAHM Forums - WAHM.com.

Welcome to WAHM Forums

Already registered? Login above

OR

To take advantage of all the site's features, become a member of the largest community of Work-At-Home Moms.

The advertising to the left will not show if you are a registered user.
| | |
| --- | --- |
| | |
01-22-2013, 08:55 PM
WAHM Addict

Join Date: Oct 2005

Location: United States

Posts: 2,085
Power Bonuses
---
Power Bonuses - Earn When You Upgrade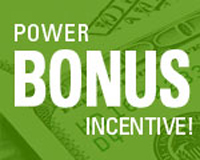 Do you have Members in your personal group who are excited about Shaklee 180™ and are now interested in doing the business? Well, we have great news for you and for those Members who are ready to upgrade.
Starting January 1st, the ability to earn Power Bonuses begins at the time that you become a Distributor, not necessarily on the day you join Shaklee. What this means is that both new Shaklee 180 Specialists AND Members who upgrade to Distributor are now eligible to start earning Power Bonuses during their first three full months as a Distributor – not just after they join.
So, every time your new Shaklee 180 Specialist or Distributor accumulates 15 sponsoring points, they can earn an
extra $150
! Think about it…if you do that several times during the eligibility period, you can actually earn back the cost of your PAK.
For more details about how Power Bonuses work, please visit MyShaklee.com.
And, be sure to share this news so that everyone in your group knows about it!
01-23-2013, 02:10 PM
WAHM Addict

Join Date: May 2005

Location: Arizona

Posts: 2,782
---
I love this! It totally rocks. It's a fabulous change that works with people and their own timing so that they don't miss out on the goodies because they weren't quite ready to be a distributor at the get-go.

Thanks for the post!
01-23-2013, 08:47 PM
WAHM Addict

Join Date: Oct 2005

Location: United States

Posts: 2,085
---
I agree completely and just had to make sure everyone knew about this GREAT news!!!

TTYS.......
| | |
| --- | --- |
| | |
| | |
| --- | --- |
| Thread Tools | Search this Thread |
| | |
Posting Rules

You may not post new threads

You may not post replies

You may not post attachments

You may not edit your posts

---

HTML code is Off

---