| | |
| --- | --- |
| Make My Day | |
Welcome to the WAHM Forums - WAHM.com.

Welcome to WAHM Forums

Already registered? Login above

OR

To take advantage of all the site's features, become a member of the largest community of Work-At-Home Moms.

The advertising to the left will not show if you are a registered user.
| | |
| --- | --- |
| | |
02-01-2013, 09:20 AM
Self-care Advocate

Join Date: Jul 2012

Location: Washington

Posts: 346
Make My Day
---
Make My Day
Don'cha love Dirty Harry movies? Who can forget Eastwood's grimace as he snarls at the bad guy, saying, "go ahead, punk….make my day."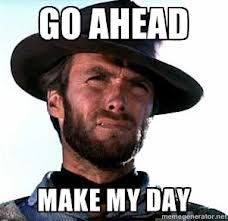 Who or what "makes YOUR day?"
• When all the lights are green on the way to work…
• When I get the first cup of a pot of coffee…
• When the jeans zip up with no problem…
• When I discover I'm getting a tax REFUND…
• When I go to sleep with clean, fresh sheets…
• When the office complainer gets transferred to another department…
Yeah, baby!
Just made my day.
Here's a thought: consider that whoever or whatever MAKES your day also TAKES your day.
It's one thing to be glad about something…it's another if it makes your day. See the difference?
I'm going to be a tad more judicious with my words. I'm changing "that just made my day" to a simpler, "that's great."
Not a big deal? I dunno…
small things can pack a big punch.
[ask a mosquito]
Are you up for a challenge? For the next week, when you get up, announce this: "TODAY IS MY DAY." Remind yourself of this, too, as the day progresses: "Today is MY day. I am in charge of how I feel, think and act."
A small thing with a big punch. Lace up those boxing gloves, Ali. You get to decide WHO and HOW you're going to be today. Take back your day.
02-01-2013, 09:00 PM
Awesome WAHM

Join Date: Mar 2012

Location: Seattle, WA

Posts: 599
---
I always try to be positive and tell myself that "Today is my day" even though sometimes it won't turn out that way.
| | |
| --- | --- |
| | |
| | |
| --- | --- |
| Thread Tools | Search this Thread |
| | |
Posting Rules

You may not post new threads

You may not post replies

You may not post attachments

You may not edit your posts

---

HTML code is Off

---