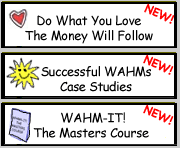 From the FTC:




WAHM.com Boards
WAHM.com Question of the Week
Jobs a work-at-home mom shouldn't do? (Page 6)


profile | register | preferences | faq | search
Author
Topic: Jobs a work-at-home mom shouldn't do?
Jewel
WAHM.com regular
posted June 28, 2001 10:37 PM

---

This is my last post here. The previous two or three posters are correct in that I have made my point many times. I will say once again that I rejoice in having insults slung at me because I know that people who are doing God's work will face that, and unfortunately, much worse persecution. I am saddened that I have not found the words to be more effective in getting people to understand. Yes, I believe phone sex is wrong, and I don't believe religion can be kept out of a discussion of a moral issue. Sorry if you don't like my religion. I am disappointed that I have not been able to adequately express the bigger picture - that faith in God and acceptance of Jesus as Savior and Lord truly is the answer. I did not consider, and this was naive on my part, that someone might enjoy this type of work. I would find it degrading, a last, desparate resort.


IP: Logged

McPaige67
unregistered
posted June 29, 2001 08:07 AM

---

I never hurdled insults at you Jewel, just pointed out the "truth" that you didn't see. No one is here to be saved or converted, it's a board we can post opinions on. You posted yours lots of times already and it hasn't changed or added anything new to the topic. Your job is not to make "people understand" religion on a message board. And you cant "teach" people by shoving something in their faces. Morals and Religion are 2 separate things. Look them up in a dictionary cause they have 2 different definitions. The persecution on this board was really at the phone actresses and those who disagree with the religious definition of morals. If someone has an interest in religion they have plenty of churches in their own communities for them to get information and even more stuff on the net. I don't think anyone has the right to call names, and "Bible Thumpers" is a negative name. Let's all be polite adults and get back to the interesting topic please. It's not that we don't like your religion Jewel, it's just that we heard you the first time.

I will go back to the topic now. So what about Jamie Lee Curtis? She is a mom, even wrote children's books. She is an actress who has sometimes taken off her top in movies. I figure she doesn't allow her children to see that. A mom who does this work shouldn't have their kids involved the same way. Does a mom really need to be told to keep her phone acting work separate from her kids? I think most moms would have enough common sense to know that anyway.

I don't think an acting job that pays so well is desperate or a last resort. I think if a woman is comfortable in doing it then it's fine for them.


IP: Logged

wahminGA
WAHM.com regular
posted June 29, 2001 11:09 AM

---

How many actors/actresses would be asked to work at three in the morning. And lots of them refuse to do those nude/lovemaking scenes. Even the ones who don't make movies that the WOULD take their kids to see.

And Jewel has just as much right to say that she believes it's wrong spiritually, morally and personally as you do say your tired of hearing her say it. And ya'll were rather rude in what you were saying to her. Her religion encourages them to go out and spread the word of God. You'd be suprised of just how many of people don't go to church (of any kind) simply because they don't know which one to go to. There are lots of choices out there. Too many in fact. It can get very confusing trying to find the right one. Jewel is just showing everyone here the path she has chosen. Maybe someone reading this will decide to follow Christ, realizing that they are not at the end of their rope. That they do have more choices to choose from than phone sex.

IP: Logged

Shayna's Mom
WAHM.com regular
posted June 29, 2001 04:25 PM

---

I asked my husband...he said "NO WAY"...I said "Why? You'd probably be the client that calls me the most!! In fact, I probably couldn't afford to do it because you'd run up our phone bill calling me all the time!!"...JUST JOKING LADIES!

Boy, Cheryl, you REALLY know how to heat things up around here!!

Shayna's Mom

------------------
MAKE MONEY AT HOME by reading and sending your own e-mails! Really!! Just go to http://www.zwallet.com/join.html?user=youwin for details! Sign up NOW (it's FREE!) and start making money NOW!

IP: Logged

McPaige67
unregistered
posted July 01, 2001 08:33 PM

---

Some people work the night shift and hey, in a variety of different fields too (so that means they work at 3am). Yup many actor don't do nude scenes and some moms dont do phone sex. So whats your point again? Oh yeah religion.

No one is saying there isn't another choice then phone sex. People offered lots of opinions. Some were pro and some were con. Gets interesting. What I said was if you aren't adding anything new then why keep posting? Or was the goal to save each woman who posted a pro for the business? Cause if it was, then it has no place here. The message board isnt called the Religious View on Phone Sex Work. The topic was posed like a question to discuss why its job a mom should or shouldnt do.... is it cheating on your husband...is it harming anyone. Thats how the original question was posted. We already read the Christian viewpoint, it been posted for a year now, go look at the dates on page one. Just time to move on and allow others to state their opinions without trying to save them from sin. Let people answer the actual questions that were asked.

Why is it that because YOU wouldn't do it that it means someone else is at the end of their rope? Geezo I am not a doctor either but it doesn't mean I am not smart enough and couldn't be. Everybody has a unique situation. Im not a phone sex actress either, but if someone else is, why would I take it so personally and get all defensive?

Everybody has the right to say what their opinion is. But why keep posting the same opinion again and again after a year? The board wasn't put here for Religious Missionaries to save sinning moms. It's here for opinions, and it was already stated several times. When I run out of NEW things to say, I will quit posting and move on with my life.

We got the point the first time it was mentioned and it was a VALID point to mention. But does it need to be restated over and over? We read it, and yes it will help some moms and thats super. That was the goal for the religious posting and trust me it worked for some moms. But for other moms it doesn't interest them or help. Some people just came to this board cause they want a job, not a religion. Give these women some credit for making their own minds up without trying to point out it's evil. Being a mother doesn't make you stupid. Actually it makes you smarter yet.

That's what I was bluntly saying. I never called anyone a name, never said someone wasnt as good as me, never claimed to be part of the elite club either, and I am against all that stuff. Yes to all moms, there are many jobs available and a phone sex actress is one of them. Not for all moms but hey, neither is a MLM. 'nuff said.

The question that was asked was is it wrong for a mom to do. Not if SHE is comfortable working the night shift and doing the work as an actress. Sorta the way Jamie Lee Curtis does night scenes for movies, love scenes, and raises her own family. There is an obvious moral issue and I think it's been made very clear. Heck, I couldn't be a defense attorney and defend criminals when I know they raped or murdered somebody. But some people do it cause it's their job. But for me it's a moral thing.

Just remember moms if you do work as a phone sex actress, there are going to be very closed minded people(mainly women) who judge you for your job. Oh, but you probably already seen that.

IP: Logged

Guineveive
unregistered
posted July 02, 2001 11:13 AM

---

Okay, let's make this real simple.
GOD HAS NOTHING TO DO WITH THIS!!!
I am not by any means saying that God is bad or anything of the sort.
What I am saying is that God has no place in this discussion. This is not a religious discussion.
How offensive is it to try to put your morals and religious beliefs on someone else? I have heard so many religious individuals say how God is loving UNCONDITIONALLY, and that Christians are the messengers of God's word. Well, common sense says that you should also be unconditionally loving and understanding. However, all I see are a bunch of moral crusaders condemning others for their own personal, private choices.
These people's choices are not affecting your lives directly. It is not harming you directly. If you don't think it's right, then fine. Teach that to your children. But don't preach to grown women, who have the right to live their lives as they see fit! Don't try to save people who haven't even asked for your assistance.

Guineveive

IP: Logged

Naomi
unregistered
posted July 02, 2001 11:38 AM

---

Speaking of personal morals...

Where do you draw the line?
If phone sex is ok, what if some one wants to watch, what if someone wants to touch? Why is one ok and not the other?

Is one "acting" and the other prositution?
Is it ok for one person and wrong for another?

How can morals be ok for one person and not for another? Is killing ok for one person?(that is a whole nother can of worms!)
I believe in absolutes. Either it is wrong or right- across the board. If it is wrong for the Pope it is wrong for every one.

That is my 2 cents.

Naomi


IP: Logged

Audrey
WAHM.com regular
posted July 02, 2001 11:45 AM

---

What an interesting thread this is. It is my opinion that certain jobs probably aren't the best mom jobs. I want to be able to tell my kids what I do. If I were doing phone sex I would not be able to honestly tell my children what I was doing. Some of the moms who run scams, I wonder what they are teaching their children also. Running a scam to me is the equivilant of lieing and stealing. I'll bet if the child did that though, they'd be punished. So all in all it's my opinion that certain jobs just are not for moms.

------------------
Audrey http://www.helpingmomsstayhome.com

[This message has been edited by Audrey (edited July 02, 2001).]

IP: Logged

Prism75
WAHM.com regular
posted July 05, 2001 12:55 PM

---

I agree with Naomi - Morals can't be judged by a person's personal feelings of right and wrong...Because then it would be okay for me to kill my neighbor if I felt that was right FOR ME.

And this is a debate about morals, the question was whether there are ever any jobs that a Mom should not do. Another way to put it would be are there some jobs that are wrong for a Mother to do, or are they right for her to do?

And for those of us who have brought up our religion, morals are DIRECTLY tied to religion. In fact, the dictionary defines Moral as not only being the princaples of right and wrong behavior, but also the expressing or teaching of right behavior, which is what our religion does. We have only stated our opinion, not forced you to agree. We have not said we are perfect, but far from it. We believe phone sex is wrong, but we believe a lot of other things are wrong as well, and we do some of them, too. We need to ask for forgiveness and turn ourselves around just as much as anyone. We are not saying that anyone is scum, or below us, but that this job to us would be. So is lying, but I've done that. And I was wrong. But I'm not going to list everything that I think is right, or wrong.

The question was specifically about phone sex, and we responded that we believed it was wrong, and why. If we had a discussion about any numerous other wrongs, I'm sure we'd be able to openly admit where we have failed. Unfortunatly, many have taken our words as condeming the PERSON who does this, and I don't think we have. I don't agree with phone sex, just as much as I don't agree with a lot of other things. But that doesn't mean I talk down about the people who either choose to do so or resort to doing so out of desparation.

Many things have been done "in the name of God", but that doesn't mean God ordained it. Please don't lump all Christians into the category of people who burn witches, kill abortion doctors, etc. I don't believe in throwing stones when I am guilty as well, and I don't believe I have.

I stated my opinion, and opinions usually include the reason for the stance. My stance is my beliefs, which go hand in hand with morals. I do love unconditionaly, but that refers to the person, not all the deeds a person may do. I love my DH dearly, but when he slips up and swears, I don't have to love the words that come out. He loves me, but he doesn't have to love my angry words when I vent inappropriately.

As for judging people (which I don't believe we have, just their actions, and I don't mind if you judge mine...I will be held accountable some day), maybe we should look at the definition of the word opinion:

opinion - a view, judgement, or appraisal formed in the mind about a particular matter

Opinions naturally judge. My judgement is that phone sex is wrong. I am not saying that anyone who does or has done this is evil, or that they are horrible people. I don't believe in smoking, either, but many of my friends and family do. By saying I don't like smoking or smoke, I am not saying I don't like the people who do these things.
Same goes with the phone sex issue.

[This message has been edited by Prism75 (edited July 05, 2001).]

IP: Logged

McPaige67
unregistered
posted July 06, 2001 09:15 AM

---

Beliefs and morals go hand in hand yup. But not Religion and morals. See y'all seem to be under the misconception that YOUR Christian Religion is the only religion in the world and that it has existed forever. What you are basically saying is without christianity that there are no real morals, and thats total hogwash. This may come as a big shock to you, but there are Jewish moms readings the board and some who might be Buddists. There are more religions then I can even name and they are all based on love and morals. Jesus is the way in YOUR book.... but not everyone's, and please try to understand that.

There is nothing wrong with Christians its a good religion, and great that y'all found YOUR path to God. But all the preaching needs to be done in private cause it is off the topic of this board. Sorry that offends some of you, but the preaching offends other people too. We're even in that department, so let's quit bringing it up to defend it and just move on. Cause it is just flogging a dead horse yet AGAIN, and even when it was pointed out several times from several people. And if y'all go back and read the whole board you can see many people have requested the religion be kept out of this. And because it couldn't be in the past... the people who were trying to really offer information quit posting. They vanished.

Sure your opinion will reflect your morals. Who denied that? That's fine when you don't preach it to everyone else and expect them all to live it. Cause there is a difference between "stating" an opinion and trying to "convince" someone of it. The religion needed to be pointed out and it was, many many many times. But when you keep saying the same thing over and over... you are trying to convince somebody. All opinions are fine to state, they are good to share, and the intention of the boards original question. It's the "preaching" that might offend other people. Nobody said an opinion was wrong to share, just to keep the preaching out of it. Try to keep it to the opinion itself, it doesnt really matter where you formed the opinion.

***Cause we don't need to DEFEND our opinions (with religion or anything else) or even explain where they come from... we just state them on the board.*** (if y'all noticed it... and I sure did, when Prism posted the definition of opinion that it didnt say anything about religion, the bible, god, or jesus. So you still proved the opinion that didnt want the religion involved. 'nuff said AGAIN.

No, not all Christians are "bad" and I dont think anyone who said that even came across as intelligent anyway. So dont even take that stuff personally. Some people have anger at religion and they made themselves noticed anyways. Not all the Christians who posted were condemning, but some were, and some were trying to preach. It's off topic to sit here and keep going over it again and again too.

The religion doesn't even mean its a bad job for a mom to do, y'know. A woman can be a mother without religion. So why not sit here and argue about the affects of it on kids? Whats the pros and cons of living with a mom who does this work? How does this work affect the children? Let's get some facts, proof, theories, OPINIONS, and all that good stuff here. Let some of these ladies who do the job to share their experiences without immediately jumping in again with the same opinion that its wrong cause religion said so. Lets hear from those ladies so we can see it for ourselves, cause THAT will help the moms who are unsure and do not believe in the religion. Lets read and cover ALL the opinions. Lets find out the reason WHY its bad ASIDE from religion. Maybe I will change my opinion if I heard it screwed up children, but so far everytime those ladies have graciously tried to share, they got jumped on by the Religious Right.... and chased away. They can't post their expereinces cause y'all keep throwing religion at them. I want to hear how this affects their children, and that answer is the real question on the board. Cause thats a more important argument then religion, far more interesting, and what we all really need to know. If y'all believe in TRUTH then it will be exposed... if you just let it. You don't have to go out on a crusade.

Why don't all you nice loving people invite some phone actresses here to post their stories. Love them enough to let them speak for awhile. Deal with "not loving their actions" long enough to let them have a say about their expereinces. Those ladies have more to add to this topic but don't want to share somewhere where they ARE being condemned,...... and they WERE chased off..... if ya just go back read the evidence. No you maybe weren't condemning the person but you were condemning somebody elses opinion, beliefs, mothering abilities, actions, and work. Does it matter what you specifically condemn? Everytime somebody had something decent to say about the work, they got jumped on by SEVERAL religious people at once. There was even a lady who posted that WAS both a christian and an actress, but it turned into a debate about how she was going against her religion. Go back and look, it's on page 3.

So why don't y'all just say right now.... can ya stop the preaching and get back on topic? Can ladies who work like this speak in a nice safe enviroment? Or would ya rather just talk about how morals come from YOUR religion, and whether morals are personal or not? And hey Phone Actress can you tell us how you raise your kids in this enviroment? There is such a good chance here to listen to the ladies who do this job. Take the chance and listen. YOU (and nobody else) is going to lose your morals by listening to somebody elses experiences. If ya can let them speak, then maybe we can get back to the real topic.... finally.


IP: Logged

seena
unregistered
posted July 06, 2001 03:05 PM

---

Well everyone, I came across this board - and this topic - purely by chance. After the last message asking for some phone sex actresses to be invited to put their side of the story, I thought I would invite myself. I am an ordinary intelligent educated middle-aged woman, well qualified in a medical profession in which I spent twenty years of work all over the world. I had to give all that up to care for an elderly parent. These things happen. The phone sex industry - or the adult audiotext industry, as it likes to call itself - was a lifeline to me, first of all enabling me to have a small income, and a distraction, while I put in an 36 hour day caring for mum. Later, after mum's death, it enabled me to "keep my head above water" while recovering from the years of physical and mental exhaustion. I then returned to my profession, but was too burnt out after years of caring for my mother to give my patients the care they deserved. I returned to the phone sex industry to tide me over, while I decided what else I could do. Teaching offered possibilities, as did hospital administration, but before that happened I was offered, and I accepted, a management position in the phone sex industry.
Just as in my medical job, I now have the opportunity to travel all over the world. In the past two years I have worked in the UK (my home) Italy, France, Switzerland and Australia. Although I am now in management, I maintain the same ethics as I did in medicine - never ask a staff member to do anything that I am unable or unwilling to do myself.
Although most of my days are taken up with management and training, I am writing this at 3 in the morning in my office as I am covering for a sick supervisor. I still go 'on-line" regularly; all my staff work in pleasant offices in nice areas and we maintain all the accepted health and safety standards of whichever country I am in. The office I am working in at present is even unionised - and I have no hesitation in welcoming the union rep. We have nothing to hide. In all countries the company I work for pays more - often much more - than the minimum statutory wage, and promotion into sales, supervisory, and management positions is almost entirely "in-house".
Saying that, the company is not perfect to work for (but which company is?) and the job is sometimes arduous, boring or sickening(just like many jobs).
I am about to start recruiting homeworkers and all I can say is that my experience of phone sex shows that it beats scams such as envelope stuffing and MLM schemes hands down any day! OK, it's certainly not for everyone - a woman needs a certain strength of character, an excellent imagination and the ability to "distance" herself from the job in order to successfully "phone sex" callers day after day for any length of time.
Doing it well is not as easy as it might seem to outsiders, and contrary to popular belief it is most certainly NOT just those of a supposedly "lower" social order or of "lower" moral standards who use the service. In fifteen years of involvement in this industry, I have spoken to men(and a few women) of all levels of society and education; although frequently seen as a job for "no-brain women" - and sadly they are often the only ones who apply for the positions offered by some companies who offer minimal pay rates and frankly disgusting work conditions - many of our callers wish to have what I would call erotic conversation, rather than phone sex - and a "no-brainer" can't conduct participate in that sort of chat.
Well, that's my story, for what it's worth. And please, remember the Chinese proverb - do not judge a person until you have walked a mile in his shoes.

IP: Logged

IAgree
unregistered
posted July 06, 2001 03:43 PM

---

I would just like to thank Seena for putting in her opinion and explaining the profession to us in a professional respectable manner. Let me be the first to say that I would hope that we are all adult enough to respect her and not jump on her for anything she might have said! As has been the point a few of us have been trying to get across -- do not judge or force religion down anyone's throat, just discuss the topic. I personally find this a fascinating point and appreciate people like Seena for enlightening us!

IP: Logged

McPaige67
unregistered
posted July 06, 2001 04:04 PM

---

hurray somebody posted on topic! Very interesting stuff for sure. Seena if you are still reading the board, what was your worst experience ever? I'd like to know the worst types of things you get. Did you ever feel degraded? Do you view it as acting?


IP: Logged

CorraLeeR
unregistered
posted July 06, 2001 06:00 PM

---

quote:

---

Originally posted by Naomi:
Speaking of personal morals...
If it is wrong for the Pope it is wrong for every one.
Naomi

---


the pope aint even MARRIED. so must be wrong for all of us. lmao

IP: Logged

seena
unregistered
posted July 06, 2001 07:09 PM

---

Yes, I am still reading this board - or at least this subject. I have been right through all the messages from when it began - when? about a year ago it seems.
First of all - do I treat it as acting? Well, yes, I suppose so! It certainly isn't real - and some of my best phone sex operators are people who I know would be just fantastic at amateur dramatics. Being a "good"ie successful operator isn't about acting so much as about having an excellent imagination, an expressive voice and being a superb and very accurate listener. Whatever one says has to sound realistic within the context of the conversation - not necessary believable in the everyday world, though. We might read and be told that men are much more visual and physical than women with regard to sex and arousal, and don't use their minds as much in sex - but trust me, that is NOT true for many of the men who call the lines that I have run! Their fantasies know - almost - no bounds.
Only very rarely have I come across anyone who wants to talk about anything that is disgusting or degrading to me - although they might want me to use my imagination to degrade them! - and to be honest, I think that sitting in the safety and comfort of a pleasant office, or in the security of one's own home, and being paid for talking about sex is far less degrading for both the operator and the caller than, for instance, working in an underfunded geriatric care facility where privacy and dignity for an aged person too often has to be compromised even by the most dedicated carer. That I find truly degrading.
I will not tolerate any callers wanting to converse about any sexual act which is non-consensual; no reference to sexual abuse, minors, animals or illegal acts or substances. I have been to the police with identifying details of callers who were seriously discussing acts of child abuse with an operator. My operators have the facility to request me or a supervisor to "log on" to a conversation and listen if they are having problems or believe that a callers statements need to be taken seriously. I can also listen in to any call at any time as a random check that our rules are being adhered to.
I have had callers sobbing to me on the phone and referred them to counselling agencies. I have referred callers to their doctor, their lawyer, to the Citizen's Advice Bureau. I have had callers say to me or my staff "Who else can I talk to at 3 in the morning, when my wife is two thousand miles away with her sick parents?"
I have had callers who live in tiny remote villages, where everything the postman delivers is broadcast to the entire population - but everyone gets a telephone bill, which is paid by cheque to a far-off office, so the lonely shepherd with the disabled wife can have a little sexual titillation in total privacy and safety, and never compromise his or his wife's "reputation" in the community.
Of course there are more unpleasant aspects of the job! But one important thing to bear in mind is that it is not acting, it is MORE than acting. It is not (for instance) middle-aged, dumpy grey-haired bespectacled English Seena on the phone - it is the elegant, half French Giselle - petite and charming with smooth dark hair, almond eyes and a dainty figure; in her mid-thirties with a Swiss banker boyfriend who travels such a lot and leaves her Oh! so lonely that she likes to talk naughty during those solitary days and nights... So it is not me on the phone - it is someone else! This is how the best operators work - it is as if they step inside an entire suit of protective clothing when they enter the work room, or log on their home phone. This way there is no chance that they will ever be tempted to meet a caller - strictly forbidden and a dismissal offence in my company - as well as horribly risky. This way there is also the ability to step OUT of that suit of armour and remain a normal affectionate loving - yes, even religious - woman.
I do not question why my employees wish to do the type of work I offer. I do worry about some of the less mature girls, and try very hard to steer them in another direction - towards getting an education, saving their earnings to travel, or simply looking on this as a stepping stone to a "proper" job. I have ladies working for me who are schoolteachers, local government employees, accountants and shopkeepers. I have nursing and medical students; Christians, Muslims and those of no specific belief at all. Ladies who have been out of the workforce for some years whilst raising a family need to reorganise their lives, dust off rusty skills at dealing with the public and get an up-to-date job reference. My ladies are all described as telemarketeers, call centre workers or telephone operators and they get a perfectly acceptable reference when they leave.
Looking through the past posts, I get the impression that there is a great deal of disguised fear in some of them. Why, I wonder? Fear of what? Of being tempted down unknown dark pathways? A frisson of fear can be quite thrilling - and believing one has the moral high ground gives one a feeling of superiority, and of safety from the threat of something just a wee bit frightening ...
I can tell you something about my morals,too - yes, I do have them - if you want, and why I am 12,000 miles away from my home and friends ...

IP: Logged

earthangel77
unregistered
posted July 06, 2001 08:11 PM

---

quote:

---

Originally posted by blueberries:


---


I agree with you...I am a Christian woman, happily married with a wonderful baby boy. Every single work at home job I have tried has failed...until I found a telephone actress job. I worried about it, whether it was moral, then I realized that it wasn't real...I would just be acting. I would never meet these people, they would never meet me. In a way, I am providing a service to men who have sexual problems. Kind of like a "sexual therapist." But most of all, truly an actress. My God loves me and understands that this works for me. I am not hurting anyone, and no one is hurting me. Therefore, I feel what I am doing is perfectly okay.

IP: Logged

GTzan
unregistered
posted July 06, 2001 09:49 PM

---

quote:

---

Originally posted by Prism75:

And for those of us who have brought up our religion, morals are DIRECTLY tied to religion. In fact, the dictionary defines Moral as not only being the princaples of right and wrong behavior, but also the expressing or teaching of right behavior, which is what our religion does. We have only stated our opinion, not forced you to agree. We have not said we are perfect, but far from it. We believe phone sex is wrong, but we believe a lot of other things are wrong as well, and we do some of them, too. We need to ask for forgiveness and turn ourselves around just as much as anyone. We are not saying that anyone is scum, or below us, but that this job to us would be. So is lying, but I've done that. And I was wrong. But I'm not going to list everything that I think is right, or wrong.

The question was specifically about phone sex, and we responded that we believed it was wrong, and why. If we had a discussion about any numerous other wrongs, I'm sure we'd be able to openly admit where we have failed. Unfortunatly, many have taken our words as condeming the PERSON who does this, and I don't think we have.

I do love unconditionaly, but that refers to the person, not all the deeds a person may do.

As for judging people (which I don't believe we have, just their actions, and I don't mind if you judge mine...I will be held accountable some day)

[This message has been edited by Prism75 (edited July 05, 2001).]

---

What is with all the "we" and "our" and "us" talk in your post? You are deeming yourself as a whole community yet ask that the rest of us not do it. Of course we will lump all Christians together, because you made it very clear that you are working as a team. By and large, you find it easier to love, respect, and live with those who share the same moral standard. So be it.

Those who insist that they love the sinner but hate the sin make a distinction where none is possible, are we not what we do? We cannot "hate the sin" without feeling just a little disapproval of the sinner.




IP: Logged

seena
unregistered
posted July 06, 2001 11:50 PM

---

The last post interested me greatly. That was a very apt comment about hating "the sin" almost forcing at least a slight disapproval of "the sinner". The titles and names given to those who are supposedly "sinning" are interesting too. Where is "loving mother" or "caring parent"? Instead we find ladies doing the best they can in the circumstances in which they find themselves labelled "sinners" and their behaviour equated with that of "whores" and "adulterers" - all words which are generally used to denigrate.
As I said before, I wonder if there is not just the teensiest bit of raw, naked FEAR showing ... what do others think?

IP: Logged

McPaige67
unregistered
posted July 07, 2001 12:17 AM

---

I think you are right Seena. Fear of the unknown, and rather then try to understand or learn about something new, its easier to condemn it. There are women who exist who are too intimidated or insecure with themselves that they worry too much about what somebody else does for a living. The fear means women have to admit that men call the lines in the first place and they would rather not face that, cause it might be one of their husbands some day. And probably especially those perfect husbands who NEVER masturbate like it says on page 5. What a hoot! One day that guy will go stark raving mad and call a phone sex company lol.

While all the opinions have been interesting, I havent seen anyone post and describe how it screwed up their kids. No one got specific about why it is a bad influence on kids (and I mean the mothers who use common sense and do the job at night with kids asleep, nobody said they do phone calls with their kids listening). If it is so horrible and bad for children then how come we havent heard just 1 bad story here after a whole year? Somebody must have one, and I am interested to learn.

Kudos to you EarthAngel for being a gutsy broad with morals and a good acting job. You will raise a wonderful son because you will be accepting of who your son turns into be.

IP: Logged

seena
unregistered
posted July 07, 2001 02:21 AM

---

Hello McPaige and Earthangel - thank you for your support and the interesting comments. I am sure Earthangel's son will benefit from the presence of a loving, Christian mother and that fear of the unknown or of what is seen as "the forbidden" plays a large part in the denigratory comments made by some folk.
It might be interesting for some people to hear - and I am sure that Earthangel would agree - that strong personal morals and ethics do NOT need to be abandoned by a phone sex operator. Instead, they play a large part in providing a healthy balance between the fantasies that she sells and the life that she leads. Why a person's occupation leads to wild conclusions about their moral character I do not know. Let me say now that I have never cheated the taxman, m=never had an abortion, used drugs or smoked anything. I pay my rent, drink alcohol maybe once a month and I have never shoplifted or been fired from a job. I give to charities, I help my neighbours and love the family that remains to me. I have many, many friends all over the world. I am not perfect. Sometimes I forget to cut the grass verge outside my place, there are cat hairs on my loungeroom mats and dust behind my fridge. I once got a parking ticket! I believe in monogamy and fidelity within a relationship, but I do not believe that every illicit fantasy which grows in a callers mind is actually a wish - far from it. Phone sex works on the premise that a caller is paying for role play of an imagined scenario. The operator/actress has no hidden agenda and is in no way a real partner, but more a delivery person. That is, if she actually "delivers" phone sex - as I and others have said, many times a caller just wants to talk. Yes, it is sad they cannot talk with their partner - or perhaps they have no partner to talk with. Perhaps it is sad that they cannot confide in a "higher power" - but they have quite possibly been put off this idea because of real or perceived condemnation of their sexuality or desires by self-appointed "guardians" of morals and behaviour. Just like Earthangel, what I do hurts no-one and no one hurts me.
Please don't tell me that phone sex damages relationships and is equivalent to adultery. If a relationship is damaged, phone sex didn't do it - the people involved in it did.
I am sorry if what I say offends anyone, but I just cannot and will not see that a kind, well-spoken and well educated man who for some unaccountable reason is tremendously aroused by the sensation of silk or satin against his genitals is doing anything harmful to anyone in paying me to construct and narrate a fantasy involving satin, sex and himself. Phone fantasy provides a temporary escape from a beer belly, a weak chin, a bald head or even brewer's droop.
We all of us use temporary escapes from the monotony of day-to-day life, be they prayer, meditation, adrenalin sports or illegal mind altering substances. At what point does telephone masturbation lie in that continuum?

Well, that's it for now, folks - home-time for me! Being a "sinning, immoral" phone sex operator it is also home to the rescued cats, the garden, baking a couple of cakes for the Christian Childrens' Fund appeal at the local school and babysitting my new immigrant neighbours' children.
"What do you do at work, Aunty Seena?" they ask.
"I talk to people on the phone" I answer.
Sorry that my Saturday evening is such a disappointment and not filled with the expected profligacy and immorality - I am just like anyone else's next door neighbour, except that I have a little bit more free time, a little bit more money, abundant sympathy for the many, generally unspoken, problems of men and a great deal more tolerant mindset.

IP: Logged

seena
unregistered
posted July 07, 2001 02:39 AM

---

McPaige67 - sorry, I forgot to mention that an acquaintance of mine - to whom I was a bit hesitant to reveal the true nature of my career - told me, when I finally "came clean" - "Oh, that's what my niece did a few years ago. It was a godsend. We couldn't help her with money at the time and her husband was in hospital for major spinal surgery. Baby was only three months old, asthmatic and at risk of S.I.D. She used to make 4 or 5 hundred bucks a week whilst baby was napping. She only did it until hubby was back at work but my goodness! It saw them over a sticky patch. Stopped them losing their home."
"Baby" is now a charming, confident sporty young lady of nine years old and my friend's niece still happily married to the father of her baby.
I creased up laughing at your description of the poor perfect man one day going stark staring mad and ringing up a phone sex line! No doubt from a public pay phone so - we would have to disconnect the poor tormented soul anyway!
As you say, it would be interesting to hear the "down-side" of being a phone sex operator from someone who felt it had affected their children or their marriage adversely. I admit that I have indeed seen it change workers but, just like doing anything new and different, some were changed for the better and some for the worse. Good night!

IP: Logged

McPaige67
unregistered
posted July 07, 2001 11:19 AM

---

I am gonna share what I know about the business, now that I can speak freely. My best friend does it. She had some serious debt and had some pretty big financial burdens, like some might say she was "desperate", and "at the end of her rope". So she became a a phone actress. But that only lasted a few months for her, cause after 6 months she got her finances sorted out and was no longer desperate. Guess what? 5 years later and she STILL does it. She has 2 children, a boy and girl.... both entering jr high now. From what I see it hasnt affected them in ANY negative way and really just the opposite. They also knows she talks on the phone to lonely men for a living and that their mom keeps the men company, she has her office/room off somewhere in the house so it never gets near her kids. She is home all this summmer everyday to spend with her kids going swimming and whatever else they enjoy. She not only paid all her bills, she got a bigger house, 2 new cars, nice things, and made more money last year then her husband (a social worker)! Her children are well groomed, clean, smart, get good grades, and have impecable manners also. They are well liked in school by other kids and by the teachers. Like Seena said.... her life is not perfect, just this week her basement gameroom flooded from a bad storm, and it destroyed all the carpeting. So I asked her, "well where are you going to get that money for all that carpeting"? She said, "if I work the next 2 weekends overnight (which she doesnt usually) I will have it right away." She gets to choose her hours, and she is in control of her own income. I mentioned this board to her and she laughed. Her feelings were that people always automatically disaprove of something that they dont understand. (take for example the gay community who is hated by the religious right for sinning also, and yet they are people who lead really normal lives)

I dont do the job personally, and I don't think I could. Its not for me, but I dont disrespect someone else for it. I dont have the personality for it, but I know this already about myself, and didn't need somebody else to drive me away from it or to teach me anything. It's great for my friend though, she loves it, and she didnt turn into a bimbo because of it. She has been married to the same man for 15 years and wouldnt have time to cheat on him or get into a weird sex life for real, because she is busy raising good children, and they are her first priority..... just like most mothers.

When I think about it, its a lot like a mom working out of her house as a bartender. Just because she serves alcohol, it doesnt make her an alcoholic. Dealing with men in a bar or club as a female bartender probably gets worse than dealing with them on the phone.

IP: Logged

starrgirl
unregistered
posted July 07, 2001 03:07 PM

---

I would love additional information on the various job opportunities involving this line work.

Please feel free to email me at [email protected]

Thanks!

IP: Logged

Seena
unregistered
posted July 08, 2001 02:22 AM

---

Hi again ... early evening on Sunday here. McPaige, I LOVED your analogy of a mother who works as a bartender - she serves alcohol, but she is not an alcoholic! I have a friend who works weekends as a barperson at a major functions centre, at banquets and the like - the hours suit her, as hubby looks after the kids while she is working, and gets to relax and enjoy time with them - but you know, I couldn't do that! She gets personal remarks made about her person, she is expected to flirt a little bit and drunks try to give her the come-on, and whatever she feels like she has to be nice and happy and smiling to everyone. I just COULDN'T do that! But she just COULDN'T do my job - we often laugh about that! What is important, though, is that we each have a job which we enjoy, which is honest and legal, which pays OK, which enables us to be more relaxed about money and which gives us time to treasure our families and loved ones.
I just know your friend is a loving and beloved wife and mother and you know what, I would bet that she is the sort of mother that her kids' friends confide in - they can probably ask her all the dumb kid things that they wouldn't dare ask their own mothers!
I honestly think that of the women who try it and decide it's not for them, most of them make that decision after just a few calls, or even during the training period, when there could not possibly be ANY impact on the children. Those who are strong-stomached enough to stick to it through the first few "shocking" calls, are disciplined and sensible enough to ensure private arrangements, and wise, tolerant and broad-minded enough to let the so-called "effect" of it slide like water off a duck's back. I personally find many of my conversations hilarious, a lot of them boring, some of them interesting, none of them sexually arousing and very, very few, if any, to be disgusting, demeaning or degrading in any way.
I don't want to go into more detail on a public (whoops! nearly said pubic!) forum, though ...

Seena

IP: Logged

McPaige67
unregistered
posted July 08, 2001 07:48 AM

---

That womans last post about looking for info made me think. First I dont think anybody is here to look for workers, its a discussion board. This site has a job board though. Otherwise use the net to do research for it yourself. Because YOU are going to want to see everything you can on it first. I wouldnt tell somebody to jump into a MLM just based on my side of the story and this is the same too. Find out what you need to know, do research on the net... thats the net is for.

Makes me also wonder if Seena has advice for the woman who seeks out a job? What should women be concerned about? Should they check the company references? Do companies go bankrupt or disappear like other work at home jobs? Is it better to work for a man or a woman? Hey, do men do the calls?

IP: Logged

amom3
WAHM.com regular
posted July 08, 2001 02:54 PM

---

Amen Jewel, it's sad when people compromise their morals..


IP: Logged

McPaige67
unregistered
posted July 08, 2001 05:10 PM

---

quote:

---

Originally posted by amom3:
Amen Jewel, it's sad when people compromise their morals..

---

I find it more sad when someone else decides for me just what my morals are, and where they come from. I find ignorance the saddest thing of all.

IP: Logged

happyathome
unregistered
posted July 09, 2001 03:02 PM

---

Are there jobs a work-at-home mom just shouldn't do? If a WAHM is getting paid for phone sex while the kids are in school, is she harming anyone? Is she cheating on her husband?
What do you think?
What a controversy has arisen over this topic!
It seems that this has turned more into a discussion of how people define their morals and people bashing each other's belief systems. I don't see how people can explain their opinions without discussing how they form them. I am a Christian myself (BTW - Christianity is not just a religion, it is a way of life), and my opinion stems from my belief that the Bible is truth. I am not incapable of thinking for myself, as some who I would assume to be non-believers have implied in regard to other Christians who have posted here.
Back to the specific topic at hand: I assert that there are some jobs that no-one should do. I am completely against pornography, and even much of what we see in mainstream movies. Phone sex may not be porn, but it is sexual immorality. No, the phone sex operator is not necessarily cheating on her spouse, but I believe that cheating is more than just a physical act. The man on the other end could very well be cheating on a spouse, and as a phone sex operator, one is enabling that behavior. If the p.s.o is getting any sexual satisfaction out of it, then, yes, that is without a doubt, cheating.
Perhaps her children are not being harmed, but I believe that the caller's family could potentially be harmed. I agree totally that phone sex in and of itself is not going to destroy a marriage in most cases. If the needs of a man (or woman)are not being met within the marriage, obviously a problem already exists. I believe that just as cheating face to face (and I don't necessarily mean actual sex) could exacerbate existing problems, so could relying on phone sex with a stranger. Many of you in favor of it say that you get many calls from people who just want to talk. Why are they not talking to their spouses? The presence of this industry just makes it that much easier not to work out problems.
I have 2 children and one on the way. I would not let them starve or be without medical care... for anything in the world. (I don't worry that is going to happen, though, because I trust the Lord to provide for us.)
Just one more off the topic comment: I have seen asserted here the belief that one can "hate the sinner, love the sinner" and several have expressed the opinion that's impossible. If your children disobey you, do you hate them, or even dislike them? Chances are you answered "NO!" to that question. You simply dislike the child's behavior, correct? Do you love your child any less in light of his transgression? Of course not! By the same token, I don't think anyone here is judging anything but a behavior. We all do what we feel we have to do to care for our children. I am afraid (maybe glad) that I do not understand why someone would enjoy this type of work.

IP: Logged

happyathome
unregistered
posted July 09, 2001 03:09 PM

---

quote:

---

Originally posted by happyathome:
"hate the sinner, love the sinner"

---

ooops- that makes no sense. Meant to say "hate the SIN, love the sinner." Another sign of my human imperfection.

IP: Logged

McPaige67
unregistered
posted July 09, 2001 09:59 PM

---

Thank you for an opinion that was not "preachy", rather you stated an opinion. So let me pose some questions back.

I am wondering how many marriages that you or anyone else knows of, were destroyed by phone sex? Can you show us some statistics? Y'all are posting theories of the destruction of children, morals, and marriages. But how many do you know of? I am not speaking of sexual addiction, thats a whole other topic. I am talking about a husband who calls a company 1 time or up to 6 times because the wife has been away or sick (meaning ill). How has that destroyed a family? What if... like all the other times the husband has done his "business".... the wife never found out? Most men dont announce to their wives, "hey guess what I just did while you were in the cellar!!!" But they ARE doing it. I'd like some evidence instead of assumptions or theories. If it is as destructive as y'all say then there must be proof available everywhere!

Another senario: A 22 year old single male college student calls a divorced phone sex operator. Who is hurt here? What if both the operator and the caller are single with no kids? Who is hurt then?

Bars, clubs, discos, all hurt people too basically. They serve alcohol and give men a chance to flirt with women who they aren't married to. Is a bartender enabling an alcoholic by serving drinks? Does it make it ok? I dunno but it is LEGAL. Y'all keep bringing up this point, "if certain morals are ok for one, and not another then I can kill my neighbor and make it ok". Now let me tell you where that theory fails.... it's against the LAW. Yup, it is illegal to kill, and there is no religion mixed in with the governement. Before you say that the United States government was based on Christian morals or signed by Christians, let me remind you that Thomas Jefferson who signed the Declaration of Independence was a Unitarian. America was based on freedom. Free speech and freedom of expression.

Its potentially dangerous to let your kids ride a bike. Life itself is "potentially" dangerous, yet we deal with it and move on. I havent heard a thing to say phone sex is anymore potentially dangerous than driving a car is.

Here is a question. Would you leave your husband for calling a phone sex service? Isnt it a little different say if he developed a relationship with a woman online and did it, then say compared to calling a business? Say he called a business one time. How would you handle it? Now, think about him cheating on you by sleeping with another person just one time. I can imagine leaving my hubby for a real affair, but I could get over the phone sex service. Now would I love it if he called a service? Not sure I would personally, but I do KNOW I could move on from it. If he dared to really break our vows and cheated on me with real sex its a little different. Too bad Bill Clinton couldnt have just stuck to phone sex instead of staining poor Monica's dress.

I kinda liked it when you asked why the husbands weren't talking to their spouses. I'd say its pretty clear those men are lonely for whatever reason. McDonalds doesnt ask you WHY you want a big mac, when you order it, they just give it to you. The presence of the phone sex industry DOES NOT cause people to stop communicating in their marriages. Look at it like this... the husband needs to communicate with someone other then his spouse, but cant afford therapy. So who else does he call? Maybe it is only the nonbelievers calling. Maybe Christianty and every other religion is safe from phone sex.
A Man has to SEEK out phone sex and look for it. They only advertise in adult magazines etc. Its not in the phone book for goodness sakes. More than likely there is something wrong with the marriage. It happens. Only addiction is going to contribute to the problem. Rock music doesn't cause teens to take guns to school. Lots of things contribute to it. Alcohol doesn't doesnt kill people, but YOU over do it and YOU get into a car and YOU might. When you take something too far it can be destructive yup. Even food can be an addiction. But how do we tell the difference between an overweight person with a gland problem, or a person who is just addicted to eating? It's not up to the waiter to not serve the fat person food because they are over weight. Is it? A man's sex addiction is "bad" obviously, but its not something the actress can control, cure, or contribute to. HE is the one who must seek help. Actually maybe if Jeffery Damer would have just called gay phone sex lines to experiement with his obvious homosexual tendencies, maybe just maybe, he wouldnt have had to act them out for real... been ashamed and murdered innocent young men. We don't know do we? But gosh darn it, I wish he just called a phone sex line instead. Dont you?
Here is the issue. Heck some women think that their husband going to lunch with a female co-worker is as good as cheating. Some people dont see phone sex as cheating, so whether you all disagree or not, its here and legal and it willcontinue to exist. The problem here is that you ladies almost all are under the assumption that the operator is getting off on the call. It's an acting job just like any actor, its PRETEND and thats what an actor does. Are we afraid that one of our husbands might call and like some actress just a little better and try to meet them for real? Here is where Seena mentioned Fear... think about it.
We cant sit here and say carrots cause cancer and proclaim it is truth with out facts. We might not like eating carrots and think they leave a bad taste in our mouth, but it doesn't mean we can or even should ban them from somebody elses diet. And we cant tell them they shouldnt eat carrots if they like them. Whats good for one person is not good for another. Thats been proven by look at the whole world as a whole. Every country sees sex differently.
In a perfect world there is no crime, no starvation, no unemployment, no divorce, no children dying, no religious battles, no mental retardation, no mental illness, no debt, no disease, no poverty, no sadness, no marital problems, no ignorance, and yada yada yada. We dont live in that world.
So what we do know from what operators have already told us is that lonely men call them. Handicapped men call them, diseased men call them. Where would you like those men to go when they need the attention of a woman? Do you know a place where a woman can flirt with a guy who has never been flirted with before can go? What about the socially awkward men? How many women will talk openly about sex or answer questions with those men? My friend talks to those kind of men and she treats them good too. Thats a lesson we could all learn. Isnt she doing just a little something good too? How many people just turn their head away from a person in a wheelchair too afraid to look incase we "catch" what they have. My friend talks to them and enjoys it.
I am very glad I understand how women can enjoy this work, I try above anything else to being understanding.


IP: Logged

trinanewby
WAHM.com regular
posted July 09, 2001 10:40 PM

---

I think that a "phone sex" business can become addictive for many women. I think a woman must first ask herself, what her values are. Is this a business that I would be proud of. Is this a business that I would want to market to my friends? Of course, the answer for many would be "NO". I pray that before a mom decided to do such a business that they would carefully consider the cost.

IP: Logged

seena
unregistered
posted July 10, 2001 06:08 AM

---

Hi all
Macpaige, I think you brought up some excellent points.
Trinanewby, of course a mother should think long and hard about what sort of business she brings into the home! But a lot of mothers don't especially want or need a "business they can be proud of" or something that they can "market to their friends". That would be lovely, but what a lot of women need is something that will help them to pay the bills NOW, something that they can start earning decent bucks at RIGHT NOW, while the children are in school or tucked up in bed. As long as it is legal and safe and they get paid, then they'll give it a try. And some of them will lose money, waste time and be worse off than when they started.
For that matter, how safe is marketing cleaning stuffs? Or cosmetics? Don't you have to store a lot of them, and aren't a lot of them dangerous to children, if they eat them or swallow them? Of course you keep them locked away ... that is the answer with phone sex too.
I believe that Christ said something about adultery being present in the mind ... what can I do to persused people that adultery and sexual arousal is NOT present in the mind of a phone sex operator? It is sexual Disneyland. We all know that MickeyMouse takes off his furry head and goes home to water the garden or polish the car and Cinderella no doubt complains about her sore feet and having to do the vaccuming when she leaves her Cinderella role behind. Tinkerbelle the fairy can't really fly across the stage when you watch Peter Pan. Does Cinderella wear glass slippers to drive home? Does Tinkerbelle believe she can really fly? Do you and I or she actually believe that? No, of course not! And most of the audience don't, either. The son of a friend of mine is seven years old and recently travelled to Disneyland. About six months earlier he had been to Sri Lanka. Which did he like best, I asked him. He answered thoughtfully. "Disneyland is fun - but Sri Lanka was REAL, and you know what Aunty Seena, its all only just pretend at Disneyland". A seven year old can tell the difference between fantasy and reality.
The same with phonesex. Fantasy land. I know this and so do 99.9% of my callers. My callers are not some deluded innocents thinking they are going to meet the love of their life, neither are any of my employees.
There is no need to complicate matters unduly by pretending that one is really something that one is not. Fantasy is a penalty-free excursion of the mind, and a phone-sex fantasy is the ultimate in safe sex acts! Like it or not, there is nothing illegal about consensual sex, whether in or out of marriage, in company or alone, and the mental experience with a competent op. transforms what is for a great many men, a merely physical function, into a pleasureable event. It is quick, clean, no-obligation, safe and controllable - for both persons on the phone. Each is rewarded in a different way.
I would like to hear from anyone who can honestly show me that phone sex has harmed - or even had an influence on - her children. It is not for us to judge what another person does with their life, anyway, as long as they do not harm others. I wonder if the ladies on this board have ever thought that they are the fortunate ones - with computers!! - literate, communicative, with ideas and energy and ability to do something with those ideas. many of you have faith too, which is another enormous asset.
Have you ever thought that there are women out there who for whatever reason, CAN'T AFFORD a computer to get ideas, CAN'T AFFORD
smart clothes to go out selling stuff, perhaps can't present themselves well in person. Perhaps, although they can talk the hind leg off a donkey, they are not very "well-educated" in the conventional sense of the word. Maybe they are so remote or isolated, for whatever reason, that they can't party or sell or assemble or whatever. They've got a phone - they can do phone work! What sort of phone work does this unskilled, poor-access woman do? She can't afford all those toll calls without the certainty of recompense at the end of the month and recompene depends on getting orders ... I am loathe to once again point out the fact that a woman can earn good money "doing" phone sex with no facilities except a phone and no qualifications except a pleasant voice and an open mind, whilst staying at home and keeping her hands clean. There are few, if any, jobs that can have that said for them. Yes, I do have pointers for women interested in this sort of job - very general ones, as I am not in the States. But I don't believe the business will be much different anywhere in the world. Yes there are scams and dodgy companies; there are also reputable businesses, both large and small. Phone sex does not have a section in the Better Business Bureau, or the Chambers of Commerce , so it's hard to find information. e mail me on [email protected] if you are interested - but please, I don't want any preaching!

IP: Logged

lissa
unregistered
posted July 10, 2001 07:27 PM

---

I'm puzzled. In an previous post someone is saying it is awful that doing phone sex is maybe at 3 am but a nurse works at 3 am, is that awful? And on the first page her is about writing, and when i go to that link it says Lori ... picks up her children at school and noone knows she has just spent an afternoon of passion with a European prince.
how come it is ok to spend an afternonn of passion with a european prince - and don't tell me they just held hands on the Eifel tower cos I dont believe it - it is ok on paper and in your head but not on the phone? Who can explain that?
Live and let live
lissa

IP: Logged

happyathome
unregistered
posted July 11, 2001 12:21 AM

---

McPaige67 (and anybody else who's interested!) I will do my best to not be "preachy", but my response to this will likely get little on the preachy side. Please understand that my whole system of values/morals is based upon the knowledge, through faith (and evermore archeological evidence) that the Bible is true, that there is one true God who is all-knowing, all-powerful, and all good - and He is the ultimate authority on what is right and what is not. My response to the points you made will reflect that. That is who I am and what I stand for. However, I will not try to "save" you (that's God's job - I can just stand firm in what I believe )
I don't personally know of any marriages that were specifically destroyed by phone sex - as I stated before, maybe not clearly enough - that it seems to me that a man's (or woman's) calling a phone sex line is a symptom of a suffering marriage. The phone sex industry and other "outlets" give people an easy way out of solving the problems they are having.
As far as proof being everywhere, many marriages end due to infidelity. My previous assertion that a man who is "getting off" on phone sex is cheating stands. He may know it is just pretend, but the fact remains that he is entertaining sexual thoughts with a woman other than his wife, which is infidelity according to Jesus himself. I can't argue with that! (Maybe you can, but as I said, I believe the Bible is God's word.) And what of the separation from God sin causes? A person immersed in a life of sin cannot or will not listen to God.
Concerning the single male and divorced woman, I could open up a whole new can of worms. Let me just say this: any sexual activity outside of marriage, is, as I understand it, what God calls sin. Sex is intended to be shared between a man and a woman who are committed to each other in marriage.
Is a bartender enabling an alcoholic by serving drinks? YES.
Does it make it ok? NO.
Morality cannot be legislated. The fact that something is legal does not make it OK. You are, unfortunately, correct in your statement that there is no religion mixed in with our government. The laws enacted by man are imperfect, just as man is imperfect. God is perfect, therefore His law is perfect. (Of course, you may not believe that, and in our country, Thank God, that is your right. It's my right, Praise the Lord, to freely express that I do believe that.) Man's law and God's law are not always the same.
Would I leave my husband for calling a phone sex line? No. Would I leave him for having a physical affair with a woman? No. At least not the first time I became aware of it. Biblically, marital infidelity is the only grounds for divorce, so Biblically, I would have grounds to leave him. Yes, I would be hurt, not to mention angry! But I love my husband, and I would do whatever I could to work out whatever problems we were having that caused him to look elsewhere for fulfillment. Forgiveness - if God can forgive me for my sins, and could forgive my husband were he ever to stray in such a fashion, who am I to withhold my forgiveness?
I did not say the phone sex industry causes people to stop communicating - at least that is not what I intended to say. What I was getting at is that it OFFERS a way to avoid communicating about the real problem with the person one should be communicating - his spouse.
As far as the affordability of therapy or counselling, most churches have counselling services, and you don't have to be a member to go talk to a pastor. Many communities have counselling through their health departments.
Having faith as a Christian does not make one impervious to sin. The person I sit next to in church Sunday morning could have been up until 2am on a phone sex line (or doing who knows what else). He could be a believer with a problem he has not yet turned over to God. It happens. As far as the awkward, lonely people you described, my belief is that faith in God is all one needs. Some people have a harder road than others, and I guess that is easy for me to say sitting here in my comfortable home; my faithful husband asleep; my beautiful, well-fed, adequately clothed, somewhat spoiled children safe in their beds. The thing is, I believe God has provided everything we have because we have been faithful to Him.
To repeat, a phone actress is not necessarily cheating, unless she is "getting off" on it, which I understand many don't. It is just a job. I reassert that she becomes an enabler, just as the wife of an alcoholic is an enabler when she makes excuses for him. Concerning alcohol, I am a Southern Baptist. We as a whole have a reputation for being against drinking and gambling ... well, to varying degrees, we are! I personally do not see anything wrong with a drink or two and I can't see the harm in buying just one lottery ticket. There is an example in the Bible where Jesus is asked about eating meat that has been sacrificed to pagan gods. There was a debate over whether or not it should be eaten. To paraphrase His response, it was basically that there was nothing wrong with the meat itself. However, if the mature believers ate it, and the newer believers were confused or offended by it, then they should not eat it, at least in the presence of those offended by it. In Romans, and I apologize for not having memorized the scripture reference, it says that we should not do anything that causes our brothers to stumble. (Someone else, probably Jewel, quoted it somewhere here.) If you knew there was a recovering acoholic in the room would you wave your drink under his nose, or even offer him a drink? Hope not! My point is, I never know who might be watching (always my children) and thinking, "Well, she goes to my church and she drinks/gambles/cusses(not!) so it must be OK" or wondering,"Why does she say she's a Christian, yet act in such an un-Christlike way?"
You have made many interesting points, McPaige67, and stated them intelligently. Believe it or not, I have a lot of empathy for folks who desparately need money. I just cannot see that phone sex operator is a job anyone should do, IMHO. Sorry if I got a little preachy there. It's difficult to express an opinion based on my beliefs without expressing my beliefs.
I may disagree with you, but I wish you a good night and God's blessings.

IP: Logged

McPaige67
unregistered
posted July 11, 2001 12:33 PM

---

Not all marriages end due to infidelity. The proof is NOT everywhere. Some couples may lose a child and the pain of it destroys the marriage. I have watched that happen to family members who lost a son. Some people simply grow apart and change, maybe God's intention. There are many amicable divorces, not all end infidelity and anger. Cheating isn't the only cause that leads to a divorce. Some of the other things you mentioned were cute, but can you really make an actor morally responsible for other people? Some people just don't care who is watching them anyway, and they have that right. Now when they do something illegal then the law takes care of it for the rest of us.

I am not sure from the true meaning of "enabling" that it covers serving a drink as a bartender, so I looked it up. Enabling is usually used to explain behavior by a spouse etc or who entwined in the life of an alcoholic. Actually enabling is defined by AA as a friend or family member who assists the Alcoholic to avoid the consequences of his actions. Enabling is doing for someone things that they could, and should be doing themselves. It doesn't mention bartenders so that means NO they are not enabling. That sound right for phone sex either unless its a sex addict and his wife gives him the number to call. What you are really trying to say basically is the word TEMPTATION. A bar is a temptation to an alcoholic. Some people feel that temptation is wrong to exist. But you CAN turn your TV off, you can pass the bar, you don't have to listen to Howard Stern, and you don't see phone sex ads because you don't have to view or buy porn. No one twists a man arm to call one, they do have brains, and they are not incompetant of controlling their sexual behavior. Now I am not saying all those things need ignored, but it is a choice if you want it in your life or not. I am saying then just dont put yourself in that situation, that's the free will that god gave us. The ones who want to do it, will seek it out. YOU can live your life as Christian-like as you want. Just not all of the world will agree and they will live their lives anyway they want to.

Also I gotta ask. Why is it that y'all seem to think that a phone actress is desperate or poverty stricken? Some people just don't like vanilla ice cream, they'd rather have chocolate. What if she LIKES her job like Seena and others who posted here do? What if she grew up dreaming of becoming one? (are we next going to generalize and say all operators must have been molested young girls too?) What if she WANTED to do it because it just allowed her more time with her kids? Is it wrong to want to make money? What if she is a Christian and helping spread the word while talking to a lonely guy? Maybe she helps a few callers find their way to god. Some missionaries get right out there on the streets of NY with the prostitutes and pray. Does that make her work better if that's her plan? What if she is sexually educating these addicted perverts to use condoms while they are out diddling other women? Isnt she saving at least one life and possibly more? Does that make it any better? What if she has a counseling degree and administers it on the phone? Does that make it ok? And you cant say those conversations don't happen, my friend says they do. Maybe that Christian guy sitting next to you who called a phone sex line at 2am needed to. Maybe he just needed to learn how sinful it was for him! We can never know WHY men call and we cant think for even a second that we are smart enough to figure it out. Cause when we think we know something somebody else can always show us the other way. Those are gods little lessons too. God also needs the devil too y'know. The devil sure makes god look better! Maybe think of women who do the work as making YOU look better. I am sure some women already do think that way.

God is not all one needs. Not for everyone sorry. If that was even half true we wouldn't need welfare, courts, education, money, laws, jobs, grocery stores, entertainment, the internet, or a church to worship in. We could just all devote our lives to god and live happily ever after. He put us here to learn though. Some people would have you think its so easy, just turn your problem over to god and he will solve it. But no, it takes WORK on the part of the individual to solve things for themselves. God will support you, comfort you, but he isn't coming to visit this Sunday to solve it for you. God cant provide for people who do not attempt to help themselves. God sends ME his light and love too… he just doesn't write me out any paychecks. I never have seen him send anybody a check with his signature. Instead he gives me (and everyone) the ability to think for myself, a smart mind to keep open, and the freedom from Judgment. While some may say that god does judge, mine doesn't.

IP: Logged

McPaige67
unregistered
posted July 11, 2001 02:02 PM

---

BTW it is NOT unfortunate that the government doesnt allow religion in its law making decisions. Its more unfortunate to think that your religion would be of benefit to the government or the whole country, especially a country that contains Jewish people too.... or do we kick them out? I'd hate to think of the whole United States as to having the same opinions and attitudes - we wouldnt be having this discussion then cause we wouldnt be FREE. There are lots of religions, one is not better then the other. Thats why its NOT part of the government. Its the WHOLE reason AMERICA was founded, because we didnt want the 2 mixed together as the Queen did in Britian (sorry Seena lol) The Original settlers may have been puritans, but they were REBELLIOUS in their beliefs and morals. America is a melting pot of nationalities AND religions today.... as it ALWAYS was intended to be. THANK GOD for that.

IP: Logged

seena
unregistered
posted July 11, 2001 04:33 PM

---

McPaige, I couldn't have said any of what you just said, any better. And when my Slovenian boyfriend asked me why Americans were so uptight about sex, I told him it was because the country was founded by people who were too uptight and cold for the English! ROTFL but here are a few further thoughts on it. The question of whether or not it harms the children – surely THE most important question – has not been addressed, other than in remarks made by you, me and Earthangel. No one has shown me any evidence that a mother being a home-based phone actress in a wise and mature manner, harms the children. I do know what does harm children, though, and that is abusive parents, a lack of love, a cold damp house, no books, a lack of medical or dental care, poor health, poor education …I could continue. Many – although of course not all – of these things can be remedied by a mum who is able to earn a little extra money.
"happyathome" made her points and made them well, without excessive preaching, but like so many, has things vastly oversimplified. Yes, her love of God is – for her – a support and foundation which she cannot conceive anyone would not, deep in their hearts, wish for. And I admire her for that staunchness of belief. But I'm sorry, "happyathome" – there are many, many people all over this wonderful planet of ours who DO NOT WANT to "find Jesus" and who will NEVER want to "find Jesus" even (or especially) if he is force-fed and thrown in their face. People have different beliefs, their own beliefs and even – believe it or not – NO belief , and live happy, satisfying MORAL lives, loving and caring for their children and raising them to be successful, responsible, productive young men and women. Please will SOMEBODY tell me why and how a mother doing phone sex will prevent her from raising her children to be good citizens? With examples?
I had to pick apart a few remarks of "happyathome', though :

>>… any sexual activity outside of marriage, is, as I understand it, what God calls sin..<<
But it is not what many people call sin, and we are not discussing God-prescribed sin, but rather the law, and whether a mother doing phone sex is harming her children.
>>Sex is intended to be shared between a man and a woman who are committed to each other in marriage.<<
That is what you say, but I say something else and other people may and indeed do have different opinions, and a perfect right to those opinions. They are just as right for them as yours are for you. You believe that because I am single, I can't have sex, right? WRONG! I can, I do, I enjoy it, I don't hurt anyone and I DON'T believe that something so good, so private, so darned LOVING! Is doing ANY harm to me. Whether or not I involve anyone else in it is irrelevant. I would not involve anyone in it if I knew it would hurt or harm that person or those dear to them. In Victorian times the idea of a woman having any sexual thoughts at all as considered ungodly and lewd. Surely to goodness no-one still believes that?
>>(phone sex) OFFERS a way to avoid communicating about the real problem with the person one should be communicating - his spouse. <<
What about the person who doesn't have a spouse with whom to communicate? What if the spouse refuses to communicate on this – or any particular – subject?
>>…go talk to a pastor.<<
That is just what an ordinary person with sexual questions or hang-ups will NOT do – because of the image people involved in church work have. Do you think anyone who wanted to discuss that sort of thing would be tempted to "go talk to a pastor" if they had just read this string? I don't!
>>I believe God has provided everything we have because we have been faithful to Him.<<
Oh pur-lease! Your own hard work had nothing to do with it? Pull the other leg, it not only has beels on it, it plays the 1812 overture!
So God will "provide" a woman who has no money, little education and an abusive husband, with an escape? A real, concrete escape? Sorry – don't insult my or her intelligence. He will "provide" lovely brick and mortar homes for those among us who are homeless? He didn't "provide" hospital treatment or medication for my sick mother, or financial support of real, paper and metal money whilst I cared for her.
>>To paraphrase His response, it was basically that there was nothing wrong with the meat itself. However, if the mature believers ate it, and the newer believers were confused or offended by it, then they should not eat it, at least in the presence of those offended by it. <<
To paraphrase this again – there is basically nothing wrong with phone sex itself. Some – especially the innocent - might be harmed or offended by it, though, and so it should not be done in the presence of those.
I think that is what some of us have been saying all along!
"lissa" s point was interesting too. I had a look at the link she mentioned and sure enough, it was a very nice piece about how a woman produces steamy fiction then goes to wait outside school to pick up the children – and none of the other mothers know what she has been up to all afternoon. Sounds a bit like phone sex doesnt't it! Writing is respectable talking is tempting the devil ...
And yes … nurses, chaplains, doctors, firefighters – all sorts of "worthy" jobs happen at 3 am in the morning so why anyone should think that working at 3 am is the epitome of an immoral job, I do not know!
Sorry, but there has still not been one argument about WHY phone sex is bad for the children and should not be done by a stay-at-home mum. All we have had is the spouting of opinion from one set of belief holders who seem to think that we should all behave and believe as they do! Phew WHAT a boring world THAT would be!

Seena


IP: Logged

happyathome
unregistered
posted July 11, 2001 09:37 PM

---

quote:

---

Originally posted by McPaige67:
[B][/B]

---

I agree - we cannot have a government that legislates religion, that is not what I intended to convey. I don't believe the only moral people are those who are Christians. I do believe that people who don't have Jesus in their lives are missing the boat, JMHO. I am grateful we have a Christian president who so far appears to uphold family values, etc. I would absolutely under no circumstances condone any legislation that in any way favored one religion above another - that is not the place of the government. However, our leaders should be morally upstanding people. Clinton was unable to manage his personal life, and I don't believe he was a good president. If one's personal life is such a mess, how can s/he handle leadership of an entire nation? Our nation was founded on freedom OF religion, not freedom FROM religion.

IP: Logged

happyathome
unregistered
posted July 11, 2001 10:26 PM

---

[QUOTE]Originally posted by seena:
[>>And when my Slovenian boyfriend asked me why Americans were so uptight about sex, I told him it was because the country was founded by people who were too uptight and cold for the English! << That made me laugh because you are absolutely right!
>>I do know what does harm children, though, and that is abusive parents, a lack of love, a cold damp house, no books, a lack of medical or dental care, poor health, poor education …I could continue.<< I am not claiming mom as a phone actress harms children, if they don't know about it. I'm not in favor of deception, and I think it is hypocritical to do something you believe is perfectly OK and then hide it from others. If a child should happen to eavesdrop, it would be no more or less harmful than any of the other sexual immorality present in our society, except for the fact that mommy is involved in it. What a shock that could be!
It's sad that so many people choose not to accept God's gift of salvation. I was not always a Christian, but one very direct statement that got me thinking was this: "If the Bible is true, and I don't believe it, I'm going to spend eternity in Hell. If it's not true, and I DO believe it, I have lost nothing."
of "happyathome', though :

>>But it is not what many people call sin, and we are not discussing God-prescribed sin, but rather the law, and whether a mother doing phone sex is harming her children.<< As I stated in one previous post, legal doesn't mean ethical or right. It is legal to smoke, that doesn't give someone the right to force everyone around them to choke down their carcinogenic second-hand smoke.
There is nothing wrong with sex if you're married. I know that is not a popular belief - even many I know who say they are Christians somehow think that "rule" doesn't apply to them because they prefer to give in to fleshly desires rather than save the intimacy that accompanies a sexual relationship with the one they intend to spend the rest of their lives with. Extra-marital sex is so prevalent in the media. The "big moment" used to be The Kiss. Today we know a TV or movie couple is really together when they have sex. Needless to say, I disagree with that mindset.
>>(phone sex) OFFERS a way to avoid communicating about the real problem with the person one should be communicating - his spouse. <<
Obviously a person who doesn't have a spouse needs someone else to talk to. There are enough other types of anonymous hotlines available that IMO, your point holds no water as justification for phone sex.
>>Do you think anyone who wanted to discuss that sort of thing would be tempted to "go talk to a pastor" if they had just read this string? I don't!<< You are probably right about that. Talking to a pastor is not the only option, just one of many.
>>Oh pur-lease! Your own hard work had nothing to do with it? Pull the other leg, it not only has beels on it, it plays the 1812 overture!<< Where have I mocked anyone's beliefs? Disagreed, yes; mocked, no. Yes, I have worked hard to maintain a budget, use my husband's income wisely, start up my own business. These are not things I could have done without God. No, he does not sign our paychecks. What he does is to provide my husband with a job, provide me with customers, and both of us with the wisdom to use our resources wisely. We have a house we can afford on our income -he gave us the foresight to purchase this particular house even though, at the time, I was working full-time and we could have afforded a more expensive one. I would still be working full-time had we chosen the latter.
>>He didn't "provide" hospital treatment or medication for my sick mother, or financial support of real, paper and metal money whilst I cared for her.<< Do you know the Lord? Did she? Did you ever once invite Him into your life as Lord and Savior? Did you ever turn everything over to Him and listen for His guidance? I am sincerely sorry that your mother suffered and you suffered through it with her. Situations like that are heartbreaking. God may not always provide the anwers we expect or want, but I believe He works all things for good.
>>To paraphrase His response, it was basically that there was nothing wrong with the meat itself. However, if the mature believers ate it, and the newer believers were confused or offended by it, then they should not eat it, at least in the presence of those offended by it. <<
If you don't believe the Bible as truth, then you may not see phone sex/sex outside of marriage as wrong.
BTW - I can't stomach those steamy novels. Garbage in, garbage out. I'm far from perfect, but I try to make sure that whatever goes into my brain is not garbage.

IP: Logged

McPaige67
unregistered
posted July 12, 2001 12:47 AM

---

Hi happyathome. While I totally respect your religious rights, your opinion, and the fact that your very pleasant in your approach... I thought I would toss out a few more questions to you.

hmmm deception.... like the way you keep your own sex life hidden from your children? Aren't you then deceiving them already because you hide your sex life with your husband? You surely don't do it in front of them... right? If it's out of plain view then it must be "hidden" and deceptive. Wouldn't they be shocked to find out mommy does it for REAL even more? What if they walked in on you and the hubby? Isn't that more "shocking" then a phone call?

happyathome was making a religious point when she said <<<If the Bible is true, and I don't believe it, I'm going to spend eternity in Hell. If it's not true, and I DO believe it, I have lost nothing.>>>

For you the above statement is true. What about those who believe the Koran is true? Should a Jewish person convert because your NEWER religion is right? Do they go to hell because you feel you have the better BOOK? How do you know you have the better book anyway? Because you can justify the bible from reading bible? That's called Circular Reasoning. Christinaity is NOT the largest religion in the world, Buddism is I believe. Some people do not want YOUR LORD in their life, and they have most likely been introduced to him before. It's not rare to know a Christian or to even have the chance to talk to one. It is RARE to have a chance to ask a phone sex operator how they deal with their work. Seena is sharing and we are lucky to have her here to do it.

**Fact: Christinaity is NOT universal, yet phone sex IS. Men worldwide call it. Every country has it. Christinaity is not universal (emphasis). So whats my point aside from being an apparent heathen in some peoples opinion? The point is that we heard the christina viewpoint already A LOT, and we need the rest of the world share theirs now. Is that ok?**

OK..... so back to the REAL topic. How does phone sex harm children? We have now established that overhearing it may "shock" them. OK. I suppose that hearing another child using foul language on the school playground might be "shocking" as well the first time it happens. A child might be "shocked" when they fall off a swing! Maybe my child finds Jesus depicted on a cross covered in blood a little "shocking" too. My son might be "shocked" that he is considered a non-believer because he is Jewish. The whole WORLD IS SHOCKING isnt it? .... war, starvation, rape, murder, drugs, smokers, drinkers, do I need to go on? I bet y'all were aware of how shocking the world was too. It's never been a secret... not even in Biblical times.

Seena is a phone actress, I would like to ask her a few questions on a board created for it. Do you understand that by asking someone with experience that me and others can learn something? Maybe something that a mom sees SEENA say will help them decide the work is or ISN'T for them. We already have 6 pages of religious dialoge to help the Christian moms think. So isn't it nice to have somebody with experience share. You can tell, I "think", by now that some of us wanted to discuss this topic without religion involved. Please be respectful of others beliefs, and they will respect yours also.




IP: Logged
Contact Us | WAHM.com
Powered by: Ultimate Bulletin Board, Version 5.44a
© Infopop Corporation (formerly Madrona Park, Inc.), 1998 - 2000.


---
Please note: Any work at home or home business advice as well as the opinions expressed within WAHM.com forums and mailing lists are not necessarily those of WAHM.com. Any advice given by forum or mailing list participants is not endorsed by WAHM.com. By participating in these discussions, you agree to allow WAHM.com and its parent company Maricle Media, Inc. and its affiliates to use, reproduce, display and distribute your contributions, in any medium now existing or hereafter developed. Your personal information will not be sold or used by WAHM.com. Use of email addresses posted on these boards for the purpose of sending unsolicited email is prohibited.
---
Copyright ©2007 Maricle Media, Inc.