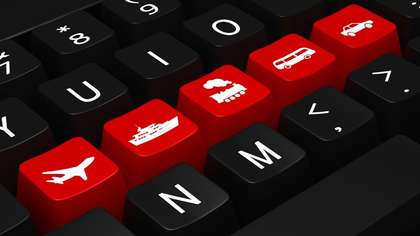 Like to travel, yet like to stay at home? It's an unusual contradiction, but many travel-lovers find success working from home as a travel agent. Vacations take a lot of time and effort to plan—and outsiders often don't know the area well enough and miss out on the best opportunities. A travel agent helps plan that vacation, often using inside knowledge to ensure the best possible trip. One WAHM reader asked just how to get started as a home-based travel agent. Sound like an opportunity for you, too? Here's what you need to know to get started as a work-at-home travel agent.
Working as a travel agent typically involves little start-up resources. Still, there's a few things you'll need to get started, mostly items which most work-at-home jobs require, including a computer with an internet connection, a printer, a phone, and a website to promote yourself on. But there's a few things beyond just the material—you should also have a love for travel and an extensive knowledge of the area or areas you are selling trips to.
Most home-based travel agents contract with a larger company as an independent agent. Travel agents book trips through their hosting company and earn a commission. Some companies offer training, while others require an extensive travel knowledge prior to sign-up. And while some have no start-up costs, others cost a few hundred dollars to get started in their program.
When looking for a host company, consider what areas they serve, what type of trips they offer, what support they offer, and what fees are required to get started. To avoid job scams, look for a company that is accredited through the Cruise Line International Association (CLIA) and International Air Transport Association (IATAN). If there is a start-up fee involved, make sure that fee covers training, a support center and Errors and Omissions insurance. There are hundreds of options, but here are a few popular ones in a few different areas:
Once you've contacted and been approved by a host agency, their team will help you through the remaining steps to get started, which may vary a bit based on the agency you work with. Then, as a new business owner, you'll want to consider various marketing tactics to get your home-based travel business up and running.
Want to know more? Ask for more input in the forums.