'Tis the season to count your blessings--but teaching little ones about the idea of thankfulness is no easy task. Help them appreciate Thanksgiving by getting them involved with these six ideas for new traditions to start this year.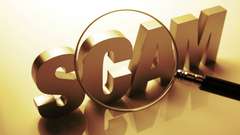 Job scams may never go away, but that doesn't mean you have to fall prey to them.
Adopt an attitude of gratitude and become inspired by your job search with these three tips.
Have a question?
Interact with other work-at-home moms (or dads, grandmas...). Get answers to questions about job opportunities, scams, home businesses and much more.
Most Recent Conversations
Read the Latest in: