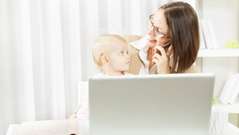 Does the thought of a 40-hour work week overwhelm you, even if it's a work-from-home position?
Summer break is almost over, and you've by now been seeing back to school ads for several weeks already!
Nursing has seen an incredible increase in the number of telecommuting jobs available.
Have a question?
Interact with other work-at-home moms (or dads, grandmas...). Get answers to questions about job opportunities, scams, home businesses and much more.
Most Recent Conversations
Read the Latest in: