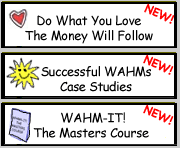 From the FTC:




WAHM.com Boards
WAHMs in MT (Medical Transcription or Billing)
Net Transcripts


profile | register | preferences | faq | search
Author
Topic: Net Transcripts
sharon24
WAHM.com regular
posted June 04, 2003 12:29 PM

---

Help! I need any information out there. I am looking to work at home as a MT. I have experience doing transcription for a spine and joint clinic, but no formal training. I've been looking into several opportunities. So far, places like AMA trans am is requiring at least $360 software fee. Net Transcripts emailed me today and said I was qualified and sent me a contractor agreement. Then only thing they require is that I get a foot pedal and a fee for the training ($25-30). Has anyone tried Net Transcripts? If so, please contact me! Thanks for your help. Also, if anyone knows or is working for a legitimate company, please let me know.

------------------
Sharon Cothern

IP: Logged

stephfoster
WAHM.com regular
posted June 04, 2003 01:28 PM

---

I work for Medquist. I've been there for more than a year. I have to pay to rent my Dictaphone, because I don't want to buy my own, but there are no other costs. They did not charge to train. They're switching over right now to an online version - my Dictaphone is pretty much obsolete, so I'll just need a foot pedal then. If you transcribe a fairly easy minimum, they'll pay for your phone line and/or ISP. www.medquist.com. Edix is also legit, and there are several others. AMA Trans am and MedQuest are scams. I don't know about Net Transcripts.

IP: Logged

sharon24
WAHM.com regular
posted June 04, 2003 01:53 PM

---

Thanks for your information. I applied to MedQuist just a few minutes ago.

IP: Logged

kirbyjohnson
WAHM.com regular
posted June 04, 2003 10:32 PM

---

Yep- AMA Trans and Med QUEST are scams- MedQuist- is a reputable company- as is Edix (www.edix.com)
never heard of net transcripts

check out www.mtdaily.com or mtdesk.com

~kirby

IP: Logged

sharon24
WAHM.com regular
posted June 06, 2003 10:13 AM

---

I have done some research on Net Transcripts and the Better Business Bureau lists them as also being Documint. If anyone has heard of this company, please let me know. Thanks!

------------------
Sharon Cothern

IP: Logged

annasmom
WAHM.com regular
posted June 06, 2003 10:49 AM

---

I think I applied at Documint and they ask for a fee for training to start up. As soon as I saw that, I said forget it. There are much better companies out there that don't ask for money.

Oh, and AMA Trans AM is a scam. They have been talked about all over some MT boards and have taken money and ran.

[This message has been edited by annasmom (edited June 06, 2003).]

IP: Logged
Contact Us | WAHM.com
Powered by: Ultimate Bulletin Board, Version 5.44a
© Infopop Corporation (formerly Madrona Park, Inc.), 1998 - 2000.


---
Please note: Any work at home or home business advice as well as the opinions expressed within WAHM.com forums and mailing lists are not necessarily those of WAHM.com. Any advice given by forum or mailing list participants is not endorsed by WAHM.com. By participating in these discussions, you agree to allow WAHM.com and its parent company Maricle Media, Inc. and its affiliates to use, reproduce, display and distribute your contributions, in any medium now existing or hereafter developed. Your personal information will not be sold or used by WAHM.com. Use of email addresses posted on these boards for the purpose of sending unsolicited email is prohibited.
---
Copyright ©<%=Year(Now())%> Maricle Media, Inc.