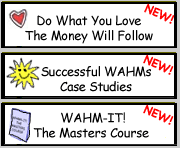 From the FTC:




WAHM.com Boards
Crafting WAHMs
Artisan Corp.?


profile | register | preferences | faq | search
Author
Topic: Artisan Corp.?
texastar17
New to WAHM.com
posted April 01, 2005 01:11 PM

---

Has anyone heard of Artisan Corp. of America?
It is a jewelry making craft/buy back program. They checked out with the BBB, but I am still skeptical. Their website is www.artisancorp.com

Please let me know if anyone has tried them! Also I am relatively new to the WHAM board but I love it. I am desperately trying to stay home with my 20 month old!

Thanks,
Melody

IP: Logged

BamaGirl
New to WAHM.com
posted April 01, 2005 01:33 PM

---

Melody,
I don't know first hand but I have heard this is a Big Time Scam! Wish I had more to tell you! HTH
Wendy


IP: Logged

chers
WAHM.com regular
posted April 01, 2005 02:26 PM

---

Hi,
Run as far away as you can from this one. It is one great big scam. LOL From our local news station they did a segment of these work at home assembly companies and they choose this one to try to assemble their product. They brought in a jewelry designer to make their earrings. He assembled what looked to me and everyone else like a perfect pair. They rejected them saying they didn't hang straingt. LOL They were perfect in every way and when they tried to contact the company to find out what they meant they wouldn't respond.

IP: Logged

texastar17
New to WAHM.com
posted April 01, 2005 05:31 PM

---

wow! Thanks for your input- I had a feeling it was too good to be true!

Melody

IP: Logged

kaylee
WAHM.com regular
posted April 02, 2005 03:01 PM

---

Big scam, I unfortunately tried this company and spent about eight hours to complete one pair of earrings, they turned out just like they should have and they rejected mine. Don't waste your money. I am upset that they are in good standing with the BBB. Goodluck to you

IP: Logged

kentuckyslone
WAHM.com regular
posted April 04, 2005 03:37 PM

---

I have been involved with them too. I did a lot of research in several forums and never found one good thing said about Artisan. Unfortunately this was after I had paid for and ordered their startup kit. I never tried to send anything to them but I wish that people who had these problems would complain to the BBB because folks trust the BBB. When I first checked them and saw that there were no complaints against artisan was when I decided to send them money.

David

IP: Logged
Contact Us | WAHM.com
Powered by: Ultimate Bulletin Board, Version 5.44a
© Infopop Corporation (formerly Madrona Park, Inc.), 1998 - 2000.


---
Please note: Any work at home or home business advice as well as the opinions expressed within WAHM.com forums and mailing lists are not necessarily those of WAHM.com. Any advice given by forum or mailing list participants is not endorsed by WAHM.com. By participating in these discussions, you agree to allow WAHM.com and its parent company Maricle Media, Inc. and its affiliates to use, reproduce, display and distribute your contributions, in any medium now existing or hereafter developed. Your personal information will not be sold or used by WAHM.com. Use of email addresses posted on these boards for the purpose of sending unsolicited email is prohibited.
---
Copyright ©<%=Year(Now())%> Maricle Media, Inc.