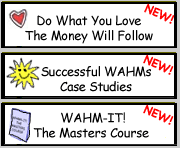 From the FTC:




WAHM.com Boards
WAHMs who write
Portfolios and Resumes?


profile | register | preferences | faq | search
Author
Topic: Portfolios and Resumes?
jelmyoung1
WAHM.com regular
posted July 30, 2004 09:00 PM

---

I am not getting into writing seriously right now, but I would like to keep track of anything I publish with Write For Cash or anywhere else for that matter. Is there a good reference on-line for putting together a resume and portfolio for freelance writers. I'd like to do more writing in the future but am sure it would be good to use things I have already written as examples. I've not done much yet but don't want to lose track. Any tips?

Michele

IP: Logged

Whitepinek
WAHM.com regular
posted July 31, 2004 09:29 AM

---

My favorite freelancer's site is Ruby Bayan's site at http://oursimplejoys.com/index.html
She lists her clips right on her site.

------------------
Bella Online's Wireless Office Host http://www.bellaonline.com/site/wirelessoffice
WorkinginPJs-a new site supporting WAHMs
http://www.WorkinginPJs.com

IP: Logged
Contact Us | WAHM.com
Powered by: Ultimate Bulletin Board, Version 5.44a
© Infopop Corporation (formerly Madrona Park, Inc.), 1998 - 2000.


---
Please note: Any work at home or home business advice as well as the opinions expressed within WAHM.com forums and mailing lists are not necessarily those of WAHM.com. Any advice given by forum or mailing list participants is not endorsed by WAHM.com. By participating in these discussions, you agree to allow WAHM.com and its parent company Maricle Media, Inc. and its affiliates to use, reproduce, display and distribute your contributions, in any medium now existing or hereafter developed. Your personal information will not be sold or used by WAHM.com. Use of email addresses posted on these boards for the purpose of sending unsolicited email is prohibited.
---
Copyright ©<%=Year(Now())%> Maricle Media, Inc.