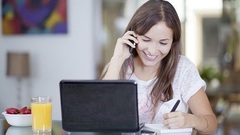 Do you feel alienated from your coworkers as a telecommuter? Fix it with these tips!
Learn how this couple overcame several layoffs and a midlife crisis by starting their own business.
I hate being stuck at home all day. I miss my steady paycheck. I wish I had an adult to talk to during the day. So why am I still working at home?