| | |
| --- | --- |
| Vendor/Craft/Charity Events | |
Welcome to the WAHM Forums - WAHM.com.

Welcome to WAHM Forums

Already registered? Login above

OR

To take advantage of all the site's features, become a member of the largest community of Work-At-Home Moms.

The advertising to the left will not show if you are a registered user.
| | |
| --- | --- |
| | |
08-20-2012, 07:33 AM
Awesome WAHM

Join Date: Jan 2011

Location: New Jersey

Posts: 786
Vendor/Craft/Charity Events
---
Wow, summer is almost over, kids are going back to school..... Where did the time go?

Now is the season for all the fall shows... We've been getting invited to so many but it's hard to be in more than one place.

Where are all the consultants in here located so if I here of an event in your areas I can send the information to you?

I also wanted to share how you can turn your old holders into Sprinkle fun and display the many uses at your events...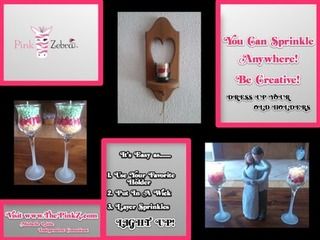 08-21-2012, 04:30 AM
Banned

Join Date: Nov 2011

Location: Alvin, TX

Posts: 249
---
I I am in Texas, just 30 minutes from the corporate offices and I am so thankful for all of the wonderful opportunities here to share the sprinkles with everyone!
08-21-2012, 05:35 PM
WAHM Addict

Join Date: Oct 2005

Location: United States

Posts: 2,678
---
Hi Michelle, I know you and Gina are the "jersey" girls, I am not to far away here in CT, with Yvonne, she lives just one street over from me. I have a great local team as well as a very large team of 600 spanning all over the US. Would love to pass on an opportunity to you if I see one we can't do in Jersey.
08-22-2012, 07:10 AM
Awesome WAHM

Join Date: Jan 2011

Location: New Jersey

Posts: 786
---
Karen that's great! CT isn't too far!! LOL... What I'm finding is some of the events we are doing travel so I'm putting a list together of people in the different states and when I get all the contracts in I can get the listing of the states they are going to be in and help out some fellow zebra ladies..
With the holidays coming a lot of organizations are contacting me asking for help with new unique vendors.
Enjoy your day!
| | |
| --- | --- |
| | |
| | |
| --- | --- |
| Thread Tools | Search this Thread |
| | |
Posting Rules

You may not post new threads

You may not post replies

You may not post attachments

You may not edit your posts

---

HTML code is Off

---