| | |
| --- | --- |
| I Don't Want to Wake Up | |
Welcome to the WAHM Forums - WAHM.com.

Welcome to WAHM Forums

Already registered? Login above

OR

To take advantage of all the site's features, become a member of the largest community of Work-At-Home Moms.

The advertising to the left will not show if you are a registered user.
| | |
| --- | --- |
| | |
04-01-2013, 09:19 AM
Self-care Advocate

Join Date: Jul 2012

Location: Washington

Posts: 346
I Don't Want to Wake Up
---
The Challenge of Waking Up
I'm a believer and supporter of "telling your story." Gotta see it to heal it. If you want to change it, gotta confront it. That kinda thing…
When we begin to tell our story, it's often like coming out of a fog. Not a lot of fun to see that the reality we've been living in, is just a picture we painted to survive. Now if hearing that stirs a strong denial in you, if you find yourself calling me crazy right now or getting angry, I'm sorry, but you're probably still in the fog.
Coming out of denial makes me think of coming out of the closet. No one wants to do it, life is going to take a drastic turn and we're not sure who's going to support us in the process.
It's why we stay where we are
. Fear of the unknown overrides the misery of the known. Plus we've learned how to hide from or cope with the known, haven't we?
This next part is for those of you who decided to confront the denial and move forward.
There's something else I want you to be aware of…
you are going to resist changing
. Big time. In fact this next step will be even harder than the waking up experience. Don't be scared about this, my friend.
KNOWLEDGE IS POWER
. It's NOT knowing that kicks you in the teeth and causes a retreat.
When you know it's coming, you can prepare. [This is why tornadoes scare me more than hurricanes. Smaller storm, but no warning.]
Here's what's going to happen: you awaken from your illusion, but now your mind must work double time to return to its status quo. See before, it only was busy in maintenance mode. NOW it must get you back to maintenance AND THEN keep you there. No one tells you that.
And that takes a LOT of energy. You're going to be tired. You will get depressed. It will feel like swimming upstream. You will want to quit. Things will appear to be getting worse.
Perfect.
Ignore how it appears.
Hunker down and stay the course. Use your meditation tools, music, deep breathing, nature trips…have your arsenal packed and ready. The storm isn't over yet.
Know this.
Even though the storm rages, the sun still shines.

To your ever shining sun...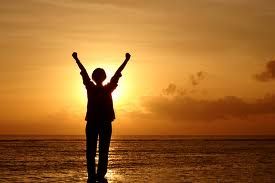 | | |
| --- | --- |
| | |
| | |
| --- | --- |
| Thread Tools | Search this Thread |
| | |
Posting Rules

You may not post new threads

You may not post replies

You may not post attachments

You may not edit your posts

---

HTML code is Off

---