| | |
| --- | --- |
| Zen-sability | |
Welcome to the WAHM Forums - WAHM.com.

Welcome to WAHM Forums

Already registered? Login above

OR

To take advantage of all the site's features, become a member of the largest community of Work-At-Home Moms.

The advertising to the left will not show if you are a registered user.
| | |
| --- | --- |
| | |
03-04-2013, 10:48 AM
Self-care Advocate

Join Date: Jul 2012

Location: Washington

Posts: 346
Zen-sability
---
ZEN-SABILITY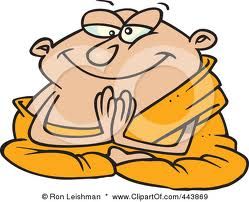 We often struggle with integrating our internal peace with our external perceptions. This is where
zen-sability
can help. What are the traits of a
zen-sable
person? They are many...
1. Surrender
2. Detachment
3. Mindfulness
4. Allowing
5. Connection
SURRENDER
to the now. Give up the past [depression] , stop worrying about the future [fear] and trust that everything is happening for your highest good.
DETACH
from the outcome, from having it "your way", and from external expectations. Rise above and see the bigger picture.
Be
MINDFUL
and assume the observer role of awareness. Breathe deeply and center yourself within.
ALLOW
people to be without blame, shame , judgment or comparison. It's not personal.
CONNECT
to your Higher Power. See the divinity in all. See the Oneness. Our journey starts as "me" but ends as "we".
Be Zen-sational!
03-15-2013, 07:45 PM
WAHM Regular

Join Date: Mar 2013

Location: Toronto, Canada

Posts: 100
Thought-provoking!
---
I'm glad i stumbled upon this post. You intrigued me. I ended up researching about this whol concept of achieving the state of Zen.
03-17-2013, 07:13 AM
Awesome WAHM

Join Date: Mar 2012

Location: Seattle, WA

Posts: 599
---
Zen-sational indeed
| | |
| --- | --- |
| | |
| | |
| --- | --- |
| Thread Tools | Search this Thread |
| | |
Posting Rules

You may not post new threads

You may not post replies

You may not post attachments

You may not edit your posts

---

HTML code is Off

---