| | |
| --- | --- |
| Fluctuations | |
Welcome to the WAHM Forums - WAHM.com.

Welcome to WAHM Forums

Already registered? Login above

OR

To take advantage of all the site's features, become a member of the largest community of Work-At-Home Moms.

The advertising to the left will not show if you are a registered user.
| | |
| --- | --- |
| | |
03-26-2007, 08:12 AM
Super WAHM

Join Date: Mar 2006

Location: United States

Posts: 287
---
I've been trying to diet, trying to watch my calories as much as possible. But Im not getting anywhere. When I weigh in the morning and then when I weigh in the evening, the numbers are very different. Between morning weight and evening weight there is a 3-4 weight difference. In the morning its like I have lost some, but in the evening when I weigh again...its like I gained everything back within the day. I dont understand why it does this and I cant seem to loose any weight.
Edited by: Monkish
03-26-2007, 08:20 AM
WAHM Addict

Join Date: Dec 2006

Posts: 4,381
---
The best thing is to weight the same time everyday. I prefer first thing in the morning. Later in the day, you've eaten food (and are full of...for lack of a better word, poop), you've drank water, possibly are retaining a little water, etc. If you go by your evening weight compare it to the weight from the previous evening. Never compare morning and evening. You CAN lose weight, and you are losing. I've lost 22 pounds to date and it came at an average of 2 pounds a week (Except when I did the Master Cleanse, but even then it averaged out). Watch your carbs too. You're doing fine. You're weight will flip flop back and forth but eventually stabalize at the new lower weight. You're doing fine
03-26-2007, 08:25 AM
Super WAHM

Join Date: Mar 2006

Location: United States

Posts: 287
---
Thank You! If the morning weight is the correct weight it means I've lost some! Yay!
03-26-2007, 10:52 AM
WAHM Master

Join Date: May 2005

Location: IL

Posts: 7,488
---
I agree with FVMom...weigh yourself the same time every time you do it. When I first started my new lifestyle, I only weighed myself once a month
but I liked the numbers that way. They were always bigger
Now I am weighing weekly, every Tuesday morning as soon as I wake up.
03-26-2007, 01:22 PM
WAHM Fanatic

Join Date: May 2005

Location: United States

Posts: 1,832
---
Yep, my Ob-Gyn said to get a true weight, weighin the mornings after emptying the bladder
03-26-2007, 02:17 PM
Super WAHM

Join Date: Mar 2006

Location: United States

Posts: 287
---
Thank you all so much for your replies in this. I know now that I really am making some kind of progress in my weight loss. Its not much but its at least something...that makes me feel good!
03-28-2007, 09:29 AM
Awesome WAHM

Join Date: Jun 2006

Location: United States

Posts: 868
---
I hope my humble opinion is taken well...
I agree...
IF
you absolutely have to weigh yourself do it once a week (same day, same time).
Here is an interesting article on weight fluctuations:
http://www.associatedcontent.com/article/17846/weight_fluctuations.html
And i'm trying to look for a file that I had on that, but I can't find it at the moment.... when/if I find it, i'll make sure to post it. It's a BIG eye opener.
Now, this is the part were I disagree with most people. Scale weight is not as important as inches lost & waist size —belly fat is linked to multiple medical problems. Because of its proximity to vital organs, belly fat is the most dangerous fat you can carry, and it is one of the strongest predictors of health risks (heart disease, diabetes, and more bad stuff) associated with obesity. Measure your waist and aim small: Ideal is 32˝ inches or less for women and 35 inches or less for men.
Reference:
http://www.realage.com/doctorCenter/...aspx?aid=10447
Also try the pant-o-meter - how are your clothes fitting you? Are they more loose?... That means that your fat is being replaced my muscle. Muscle takes up less space than fat, and it also weighs more that fat.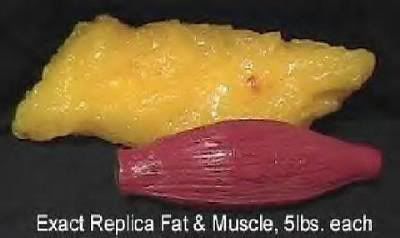 That is why when your start lifting weights, your scale typically goes up a few pounds. This should not discourage you. That is why I always say that scale weight is not AS important as inches lost.
Just my 2 cents.
God Bless.
~ Vilma
Edited by: veperez
03-28-2007, 03:40 PM
Super WAHM

Join Date: Mar 2006

Location: United States

Posts: 287
---
Thank you for the link and info Vilma. Thats helpful
| | |
| --- | --- |
| | |
Thread Tools
Search this Thread
Display Modes
Posting Rules

You may not post new threads

You may not post replies

You may not post attachments

You may not edit your posts

---

HTML code is Off

---