| | |
| --- | --- |
| Do you cook from scratch? | |
Welcome to the WAHM Forums - WAHM.com.

Welcome to WAHM Forums

Already registered? Login above

OR

To take advantage of all the site's features, become a member of the largest community of Work-At-Home Moms.

The advertising to the left will not show if you are a registered user.
| | | |
| --- | --- | --- |
| | | |
07-19-2013, 08:43 PM
WAHM Regular

Join Date: Jul 2013

Posts: 15
---
This is one of my goals now that I am staying at home. I was talking with my mother about from scratch "cream of" for bases. Can someone post a good one to try for a first timer?
07-24-2013, 08:04 PM
WAHM Regular

Join Date: Jul 2011

Posts: 26
---
Making a base is pretty easy, all you need is a roux and once you get the hang of it you can customize as needed.You can also use a roux to make cheese sauce for homemade mac and cheese. Heres a quick little recipe for cream of chicken from about:

2 tablespoons butter
3 tablespoons all-purpose flour
1/2 cup low sodium chicken broth
1/2 cup low-fat or fat free milk
salt and pepper to taste

Preparation:

Melt butter in a saucepan over medium-low heat. Stir in flour; keep stirring until smooth and bubbly. Remove from heat and add the chicken broth and milk, a little at a time, stirring to keep smooth. Return to heat. Bring sauce to a gentle boil; cook, stirring constantly, until it thickens. Taste and add salt and pepper, as needed to taste.
07-25-2013, 07:12 AM
WAHM Regular

Join Date: Nov 2012

Posts: 19
---
I also cook from scratch as much as possible. I just think it tastes better and I like knowing what is going into the food that myself and family are eating. I also have a small veggie garden and cucumbers just taste so much crisper and fresh home grown.
10-06-2013, 10:00 AM
Online Success Coach

Join Date: May 2013

Location: Michigan

Posts: 158
---
I try to cook most things from scratch. It makes me feel so much better knowing what is in the food my family is eating plus you can always adjust the flavor.
10-08-2013, 07:19 AM
WAHM Regular

Join Date: Jun 2013

Location: central Ohio

Posts: 114
---
One thing that really helps is to have equipment. I still have the CHOP-RITE #10 grinder my parents bought in the 1950s. Then when there's a good price on beef or pork, I'll buy, grind, and freeze.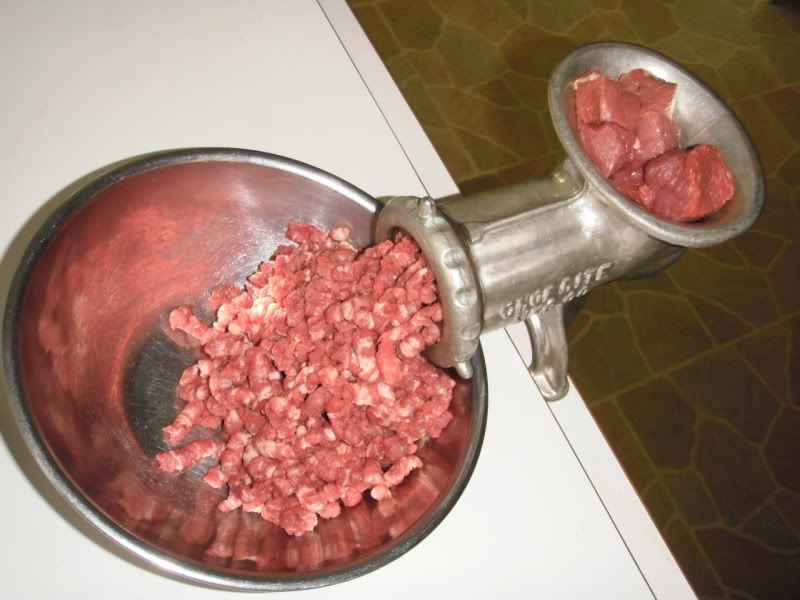 I'll grind a whole pork shoulder, with all the fat, and there's still far less fat than in commercial sausage.
10-11-2013, 12:48 PM
WAHM Regular

Join Date: Oct 2013

Location: Hollywood, CA

Posts: 36
---
In recent years I've been leaning more and more towards cooking from scratch especially certain dishes. It's just healthier and I like knowing what is in the food I'm eating....for the most part.
11-02-2013, 06:49 AM
WAHM Regular

Join Date: Nov 2013

Location: Idaho

Posts: 34
---
Absolutely! Not only is the food better for my family (like home made bone broth vs store bought stock) but my kids love to help. The garden is a big hit with them every summer. I have a few tomatoes left from the garden that HAVE to get used. I'm thinking tomato basil soup for lunch or dinner today.
11-02-2013, 08:05 AM
Super WAHM

Join Date: Jul 2010

Posts: 385
---
I can't claim to cook everything from scratch, but I hardly ever eat packaged food if I can make it. I admit to a love for pot pies and hot dogs, though. I tried making my own pot pies -- just not the same.

I actually love the process of making a dish from scratch. My roommate has a house full of appliances to chop, slice and dice everything. I prefer to do it myself with a really good knife. I find the actual preparation of ingredients relaxing and almost therapeutic. For example, for my vegetable soup it can take up to an hour just to chop everything that goes into it, but I love doing it. It somehow makes it taste better to me. I realize that is old-fashioned, but cooking everything by hand is old-fashioned. Maybe going back to basics is not such a bad thing.
11-02-2013, 08:07 AM
Super WAHM

Join Date: Jul 2010

Posts: 385
---
Quote:
Originally Posted by
avonlady916
Not only do I cook from scratch, I try to grow what I cook (well, veggies anyway)
Ive been watching the cooking videos on swagbucks and its taught me SO much. First thing I did was buy my first set of SHARP knives.
Have no idea how I got along without them!
Then I bought a pasta machine and made my very first homemade pasta (its FUN) Also tastes so much better! Especially in homemade soup
Dang.... now Im hungry, hehe
Bonnie
I am starting to grow my own veggies again. I used to grow almost all of them, but life threw some curves, so I couldn't do that anymore. It feel so good to know that my food comes right out of my back (or front) yard and that I control the process.
I'm not big on pasta, so I just buy what I do use, but the sauce is always homemade.
11-02-2013, 08:10 AM
Super WAHM

Join Date: Jul 2010

Posts: 385
---
| | | |
| --- | --- | --- |
| | | |
| | |
| --- | --- |
| Thread Tools | Search this Thread |
| | |
Posting Rules

You may not post new threads

You may not post replies

You may not post attachments

You may not edit your posts

---

HTML code is Off

---