| | |
| --- | --- |
| Carpe Diem | |
Welcome to the WAHM Forums - WAHM.com.

Welcome to WAHM Forums

Already registered? Login above

OR

To take advantage of all the site's features, become a member of the largest community of Work-At-Home Moms.

The advertising to the left will not show if you are a registered user.
| | |
| --- | --- |
| | |
02-09-2013, 10:54 AM
Self-care Advocate

Join Date: Jul 2012

Location: Washington

Posts: 346
Carpe Diem
---
Carpe diem. Seize the day.
Take it back, actually.
We give our power away; no one takes it from us. We SAY that, but itís not true. Your day is your day. You donít have to seize it if you donít give it away.
Try this mantra for the day:
TODAY IS MY DAY FOR SELF LOVE, SELF CARE AND FUN. NOTHING ELSE WILL SERVE ME ON THIS PATH.
Iím going to recommend a very odd diet, now. A F.A.T. attack, if you will. The Feelings, Actions and Thoughts that we consume need to be monitored.
Hereís your monitoring device:
When you feel [x] - is this feeling in line with my path?
When you behave [x[ - is this action in line with my path?
When I think [x] Ė is this thought in line with my path?
If your feeling, action or thought is not on the path of self love, self care or fun, do you really want to keep it in your life?
Since we can only control ourselves, consider what you might need to change to take back the dayÖ
Do I need to change my attitude? My environment? The people Iím around?
If you struggle with self love, self care and having fun, somewhere, somehow power was given away.
Thatís ok, Peaches. Now that you see itís missing, you can take it back.
Carpe your diem.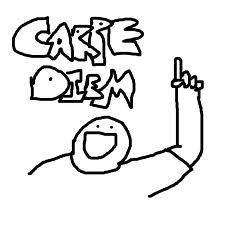 If youíd like to learn more about taking back your day, PM me to request your free ebook: Never Enough.
02-10-2013, 06:51 PM
Awesome WAHM

Join Date: Mar 2012

Location: Seattle, WA

Posts: 599
---
I'm seizing the day!
| | |
| --- | --- |
| | |
| | |
| --- | --- |
| Thread Tools | Search this Thread |
| | |
Posting Rules

You may not post new threads

You may not post replies

You may not post attachments

You may not edit your posts

---

HTML code is Off

---