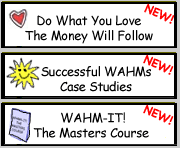 From the FTC:




WAHM.com Boards
WAHM.com Question of the Week
Jobs a work-at-home mom shouldn't do? (Page 12)


profile | register | preferences | faq | search
Author
Topic: Jobs a work-at-home mom shouldn't do?
kaerae01
WAHM.com regular
posted November 13, 2002 11:17 AM

---

quote:

---

Originally posted by RebeccaH:
From your point of view, this is an easy matter. But not everyone shares your religion. Christianity is a new religion. Condeming someone using religious reasons is like me condemming you for the color of your car.

From a single, narrow religious viewpoint it could be wrong. Maybe. Much depends on your religious views. From other viewpoints it is not the best thing but until God provides you with a check then do what you have to do to provide for your children.

If I were in a situation where I had to choose between phone acting which would buy coats, food and pay the heating bill plus maybe some presents or not having those things, I would do it in a heartbeat.

There are many people who not only don't see it as wrong but don't have the luxury of a net to catch them.

Personally I will never judge any mother as wrong who does this to support her family. It is better to do a job you despise than accept welfare which in many states is severely limited. That money can be used to also improve a woman's job skills which would allow her to leave it when she got a better job. Until I walk in the shoes of the woman who has to face those choices, I will support them unconditionally.

Becca

---

Wow, Becca. This is the best response to anything, in any forum I have ever seen. You said it so well and so tactfully and I sincerely mean that. As a single mother of many children, whose husband "disappeared" many years ago, I can really appreciate what this woman who does the "phone acting" is going through. I was left with no child support, no living family, and no one to help. Refused welfare and did it all on my own, but it was a true struggle, with my working two jobs and still some months having no food or no heat, in the beginning many years ago. Certainly anything I did, or could do, would have been OK in God's eyes. As it is with this woman. Better times have come to me now, but only after many, many years, as it will to her. She doesn't need someone giving her critical advice, which will only hurt her self-esteem even more. You said it so well for all of us!
http://www.written-solutions.com

IP: Logged

honydoo
WAHM.com regular
posted December 14, 2002 11:14 AM

---

I have beeen reading the posts on this issue for awhile now and I have to say there aree so many people out there that have a very closed minded and distorted image of the phone sex industry.I have worked in this industry for quite a few years both as an operator and as a manager.These men are not being ripped off, they know what they are calling for and that is exactly what they get.Some of these men have fantasies that they can't act out or tell their wives or significant others about so they call a phone sex operator to take care of this need.Sometimes the call isn't of a sexual nature at all.Sometimes they just want to talk.
To say shame on you to all the women who do this for a living is very out of line.Who are any of you to tell anyone what they should do for a living?
In a recent post someone stated that their brother used Dads credit card to call a phone sex line. Well if this boy is taking his parents credit cards and using it without their knowledge,I think there is a bigger issue here than accessin phone sex.These companies do advertise on TV between the hours of midnight and 5am on slected channels.I don't know about all of you, but my children are in bed sleeping at those times.Most cable companies have parental block capabilities which allow you to block certain channels from view.
The bottom line is sex sells.Always did, always will.Those who wish to profit from that should not be ridiculed or put down.No one forces these women to choose this as their profession.It is a choice.

IP: Logged

MystikalDragon
New to WAHM.com
posted January 08, 2003 12:12 AM

---

It amazes me how the christians are the ones who come and blow up about things they do not see as being "RIGHT". I am a marreid female and we are a pagan family. I know this topic is old but I wanted to share my thoughts.

I have done many things in my life to help care for my children. I have been a Live Webcam girl. and escort..a fastfood manager a grocery clerk a receptionist a bowling center manager and now a phone sex operator. It amazes me to think that the "Xtians" ( Christians) would let their children starve before they dared to venture into a world of sex. Are you christians aware of any other position besides missonary??????

I have done many things some of which I made enough money my DH could have quit his job and we could have helped raise another family. I have done other jobs that I STILL had to have another job for us to make it. My taste in material things is not high but it is on the nice side.

Before you go bashing others for what they do or are thinking of doing look at your life and reflect on the things you have done you are not proud of.

In Perfect Love and Perfect trust

MystikalD

------------------
We shall be free! So have a little faith and hold on cause, WE SHALL BE FREE!!!"
My how the times have changed! but look how far we have yet to go! The Burning times may be long gone by now, but are we not still burning?
WE SHALL BE FREE!

IP: Logged

jbmc2002
WAHM.com regular
posted February 17, 2003 12:45 AM

---

quote:

---

Originally posted by blueberries:


---


I say that if you are staying home with your daughter and you are able to make an income and raise her the way you want then you do what you have to do...phone sex is nothing in my eyes....it is nobody's business what anyone does inside your home as long as you are not hurting anyone else especially your child... you know what you have to do to keep your baby safe and with YOU


------------------


IP: Logged

OrangeCharlie
unregistered
posted February 27, 2003 03:41 PM

---

I would never do a phone sex job with my daughter or any children in my home. Even if we had no children, it just wouldn't be right for me to do. I am not going to criticize anyone who does it, just as long as childern are not in the home.

------------------
Steve
Proud Daddy of Lizzie
Moderator - Telecommuting Moms

IP: Logged

OrangeCharlie
unregistered
posted February 27, 2003 03:41 PM

---

I would never do a phone sex job with my daughter or any children in my home. Even if we had no children, it just wouldn't be right for me to do. I am not going to criticize anyone who does it, just as long as childern are not in the home.

------------------
Steve
Proud Daddy of Lizzie
Moderator - Telecommuting Moms

IP: Logged

OrangeCharlie
unregistered
posted February 27, 2003 03:41 PM

---

I would never do a phone sex job with my daughter or any children in my home. Even if we had no children, it just wouldn't be right for me to do. I am not going to criticize anyone who does it, just as long as childern are not in the home.

------------------
Steve
Proud Daddy of Lizzie
Moderator - Telecommuting Moms

IP: Logged

Naomi Ball
WAHM.com regular
posted March 01, 2003 10:53 AM

---

quote:

---

Originally posted by MystikalDragon:

It amazes me to think that the "Xtians" ( Christians) would let their children starve before they dared to venture into a world of sex. Are you christians aware of any other position besides missonary??????

In Perfect Love and Perfect trust

MystikalD

---

Hi MystikalD,

I am suprised this topic is still alive. I was just curious to see what is going on here. Now I have to respond.

May I explain why a Christian would never "venture into a world of sex"?

Christians believe that all sin, no matter how big or small, will result in being seperated from God and in eteranal death, in hell. Jesus Christ died on the cross and rose from the dead in order to remove any and all sin from anyone that asks. Believing this will lead to eternal life, in heaven.

It is our human nature to view one sin as worse than another. Certainly some sins or wrong actions have greater consiquences than others. But according to the Bible all sin is the same. For the most part, most Christians will do ther very best to keep from being seperated from God, and will do what the Bible teaches.

I hope that the same Christans that would never ever do phone sex would also never ever lie or scam some one in order to feed their hungry childres. **There is always another, better option if we just look for it.****

What I don't understand is why people excpect other people of a different religion to have the same set of standards, same way of life or even the same knowledge. Why critize some one because their religon is different?.

(MystikalD, that comment about the missionary postion was not "In Perfect Love and Perfect trust")

I have been a Christian all my life, and I am glad to say so. How ever I do not think Christians should expect non-christians to act/live/beleive the same as we do.

In other words if you are not a Christain, go a head, do what ever you want. If you/anyone is a Christian and is concidering phone sex, we've got some serious talking to do.

In His love,
Naomi


------------------


IP: Logged

WAHG
New to WAHM.com
posted April 30, 2003 01:23 AM

---

Since I only read pages one and twelve, I have no idea if this has been brought up. I used to know a man who became addicted to phone sex. He was a "family man" who had a very good paying job. His family had poor clothing, poor running cars (if they ran at all), poor housing (thrown out of a few) and their phone was turned off time and again because of "mistakes" on their HIGH phone bills. People in the church constantly had to give them food or clothing for the children.

He was finally "found out" when he embezzeled from the church where he kept the books. After being confronted about the missing money, he admitted he was addicted to phone sex and this had caused his family much pain. It caused them much shame when he had to tell his wife.

I know that his actions were not the fault of anyone on the other end of the line, they were his own actions and his "fault", but I personally would not like to know that I had even a small part in the downfall of a family by seducing the daddy on the phone.

This can be an addiction, just as gambling or any other "vice". Think twice about whether you can comfortably be a part of this type of family pain.

IP: Logged

Gargoyle89
WAHM.com regular
posted April 30, 2003 04:21 AM

---

I'm sorry WAHG but with looking at things that way then everyone is at fault for everything they do. If you sell a hamburger to a guy who's got a heart condition and he dies it's not the fault of anyone who sold it to that person. If you sell food to an obese person you're not making them obese they are. If they get sick form complications of their obesity it's not the fault of the food industry. If an old woman gets in her car when she's had her license revoked and her doctor said she shouldn't be driving and ends up costing her family money because she wrecked the car, it's not the fault of the car manufacturer, city roads dept., licensing board, doctor or other wise. Anything that my hurt another person lies with that person alone. If you're screwing up your family then you're the one doing it. Phone sex addiction is a choice. I'm sorry I don't see it as a disease you can blame it on so you don't have to take responsibility.

Kaleolani

IP: Logged

MommyMom
New to WAHM.com
posted June 25, 2003 12:35 AM

---

I found this site a sometime ago, I was very pleased to see a site dedicated to work at home moms. I am a 26 yr old single mother of a special needs 6 yr old. I was rasied in a christian home went to church 4 times a week and had both parents in my home, my parents never drank nor smoked, and I never to this day have either. My mom passed away when I was a teenager. I was in college at the time I got pregnant by a guy that I was dating. As a teenager I was left with a mortgage because my mom left everything she had to me because I left school to take care of her, and my dad was angry because she lefted him nothing after 36 yrs of marriage, my mother felt very justifed in doing so considering he never once came to see her when she was ill in the hospital for 9 months. So when she died my little family was shot to heck because my dad said bye bye and moved in with another woman 6 wks after my mom died. I got pregnant 4 months after she passed away and my child is the light of my life, though it is hard raising my child I have done it very successfully. I am so greatful to have found my phone sex job because I need to be here everyday with my little one and child care is expensive for a special needs child. I work from my office which is located in the basement of my home, from 10pm to 7am and my baby monitor is always at my side. I can now pay for the therapy that my child needs which is $100 a pop three times a week, that medical insurance DOES NOT cover. That along with all of my other bills are being paid. I have not gone through every single page of this post, but I got that some of the Christians were a little upset about women doing this. I am one of the top paid actresses at my company and honestly speaking 40% of my calls are guys that want to just talk to a woman not sexual but just talk, but the other 60% do and I feel that I would much rather have my hubby talking to the phione sex girl than the hooker in the shady part of town or having a mistress on the side. I just really want all of you who are Christians to understand that not every one has the same life. Also to just let you know I still go to church twice a week and I give my 10% EVERY Sunday along with my love offering to my Pastor. I know this topic is really old but I just really wanted to make a comment.

Be Blessed


IP: Logged

honydoo
WAHM.com regular
posted June 26, 2003 10:58 AM

---

Gee WAHG, I guess that means that waiters and waitresses or bartenders should consider other lines of work since the could be contributing to somones alcoholism.
Maybe the clerk at the convenience store should refuse to work the lottery terminal because a customer may have a gambling problem?
Give me a break, everyone is responsible for their own actions
By the way the phone company can put a block on the phone prohibiting calls to 900#s.

IP: Logged

MommyMom
New to WAHM.com
posted June 27, 2003 12:14 AM

---

Oh I had just one more comment. I know that the 900# has come up on some posts, but I just want to mention at my company which is one of the biggest in the US, doesn't have 900#'s it only accepts credit cards. So basiclly if someone teenage boy with raging hormones does get a hold of his dad's card (by the way the operator can 10 times out of 10 tell by voice or some simple everyday questions how old jr. really is) its called credit card fraud and should be dealt with by the parents.

Be Blessed

IP: Logged

Jennifer Rose
WAHM.com regular
posted August 04, 2003 10:58 PM

---

In the bible it says, judge not least you be judged. Jesus preaches love and understanding, I would think that a TRUE christian wouldnt get up on a soap box and preach and condemn and look down his or her noses, or they themselves are sinners, pride is the GREATEST sin of all, and ignorance is bliss. If you dont agree with phone sex, dont do it. I am married and I work from home PT because I have health problems, I cant be on my feet all day, but I have a house to run and a family to help support, I work as an actor and my husband is aware and PROUD that I have found something that I can do that is within my physical limitations and pays well.

IP: Logged

cquin
WAHM.com regular
posted August 19, 2003 06:41 PM

---

Can anyone give me info. on finding a job doing this.I am in a very difficult situation where i can't leave home and need to work from home.Will somone please give me info. on finding a company to work for.
Thanks

IP: Logged

24hrwmn
New to WAHM.com
posted September 12, 2003 07:22 PM

---

I can't believe this topic has been open for 3 years now. but after looking through ALL 12 pages, I felt I had to jump on the bandwagon also. I've had my dreams of being the next Heidi Fleiss, so I obviously do not see anything wrong with a woman taking care of her own with any means possible. As for me I dont think I can do it. I'm not that good of an actress!!!! I'd probably start laughing.


IP: Logged

Haywire
New to WAHM.com
posted September 21, 2003 08:55 AM

---

Wow, a very touchy subject. This seems to be turning into more a verbal bashing on both sides of the coin.
Personally, I know I couldn't do phone sex. Personally, and no offense towards those who are comfortable with it, but my own convictions would keep me from doing it, as well as my shyness. But, I believe it is a personal decision that should be discussed with a person's husband. If they have the kind of relationship that is open and strong enough to handle this, then it would be up to that couple as to whether they consider it cheating or not. I do believe it should be done out of range of children's ears though.
As for the religious aspect that was brought up. Yes, the bible tells us it is a sin. But the bible also tells us that God will provide for us. Who are we to say that God does now allow this in a person's lives for whatever purpose God is trying to serve? Did God allow a person to stumble across this job, accept it in order to keep her child out of daycare where an abuse situation might have occured if the child had been in someone else's care? Who are we to know. So who are we to verbally bash someone else for their beliefs. I find it ironic how some of you, and not pointing fingers, this is a general statement..but some have loudly stated this type of job is a sin according to God, and bashing others morals. Yet some have not stopped to consider their own morals when blatently lying to their customers to get them to buy their products at rediculously over inflated prices.
None of us are better than anyone else who has happened upon this board for help with working from home. Let us stop worrying about whether someone has the same morals or religious beliefs as we do, and instead offer our support and encouragement in being able to stay at home and raise our children while putting food on the table.


IP: Logged

lgw924
New to WAHM.com
posted January 23, 2004 09:55 AM

---

quote:

---

Originally posted by Jewel:
Phone sex is nothing short of prostitution. If you have to hide your job from your kids, that's a major indication that you should not be doing that particular job. There are other, morally upstanding, ways to earn money. A resounding YES! you are cheating on your husband if you are involved in something like this. How is it any different than your husband calling in on one of these lines? Wouldn't you, as a wife, feel betrayed? The Bible is very clear on what constitutes marital infidelity. I will pray for those of you who may need spiritual guidance, that you may learn to lean on our Heavenly Father and allow him to lead you in the right direction. The Bible does not promise an easy road, but the Lord is always faithful to His children. I am shocked by the number of people who think that phone sex is perfectly OK. I apologize if I offended anyone with my previous response. While I am a Christian, I am still rather opinionated, falling quite short of perfection!


[This message has been edited by Jewel (edited July 15, 2000).]

[This message has been edited by Jewel (edited July 15, 2000).]

---

IP: Logged

lgw924
New to WAHM.com
posted January 23, 2004 10:04 AM

---

Ok, Jewel, the fact that you say in your reply that you are a "Christian" but are extremely judgemental sickens me. How "Christ-like" is that? I could swear that Jesus loved everyone and didn't judge anyone- and that included the prostitutes, or did you forget that part of the Bible?
Phone sex is a job. Plain and simple. And while I have never done it, I would do ANYTHING to support my children and put food on the table for them.
There is no reason to discuss details of your job with your children, so the fact that you wide hide it from them, I think, is irrelevant. Of course, you would never want them to hear something like that and I would expect that and responsible parent makes sure that children never hear the conversations.
It is in no way cheating to get paid for conversation. These women, as far as I've been told, use false names, the customers never know where they live, their home numbers, no real information about these women. It's a fantasy. It's not cheating. It's getting paid for services rendered.
Plenty of people can't get "some other job" due to daycare issues, transportation problems, disabilities, etc. There isn't always something else that can be done. And I applaud anyone who is working, doing ANYTHING other than sitting around on public assitance and complaining.
I would hope that being a Christian person, you will learn that you are no better than anyone else and neither is your job. We all do what we have to do and if it is supplying a better life for children, then so be it.




IP: Logged

mech
WAHM.com regular
posted January 27, 2004 07:02 PM

---

I would just like to say that everyone is entitled to their opinion. After reading everyone posts I have gathered that everyone is very opinionated on this subject, however the orginal post was a question so we all have different answers. In the end we will all have to answer for the decisions we make in our lives some way or another. It comes down to they are our decisions so why is everyone getting so upset about what others have said. Friends give advise whether or not you take it is up to you. I personally wouldn't be able to do adult phone actress work, but that's me and my upbringing. So to all that do this type of work why get defensive if you are okay with what your doing??

Michelle

IP: Logged

[email protected]
WAHM.com regular
posted February 16, 2004 04:24 PM

---

My question is, what kind of people call in for phone sex? What is being cultivated with phone sex? Maybe phone sex is okay when you look at it as just a job but what about it's impact on the community? It can become a moral question for even people who are outside the home.

IP: Logged

myhairsos
New to WAHM.com
posted February 22, 2004 10:04 PM

---

quote:

---

Originally posted by webmom76:
But Jewel I havent had sex outside of my marriage. I talk about sex on occasion but I am not having it with anyone but, my husband. He is the only man in this world I want to be with. Women who write erotic stories arent having sex outside their marriage and neither am I. I havent hurt anyone I have not ruined anyones life. I have used the creativity that god gave me. I have not solicited myself and I do not promote child abuse in anyway. I am a christian in fact I am pretty strict catholic. I havent done anything wrong.

You have passed judgement and said that what I was doing was sinful. My husband is supportive of me loving and caring. My god does not judge he loves all of his children. I stay at home with my child I will be the one to notice if there is something wrong. I am the one who will make sure that she has what she needs out of life. My daughter will know that she is to use the talents that our father has given her. To respect herself and to respect others. I have taught her that and I will keep on teaching her that. I have not disrepected myself or anyone else and I dont know how you cant see that.

Also you are not the only one who has read the bible. I don't think your narrowminded maybe a little opinionated. You have a right to think and feel how ever you wish. So do I! So does every mom, wife and daughter. As you can see this subject from the 3 pages it has extended is not one with a one sided opinion. I also pray for the moms who are struggling to make it. I know they would swallow there pride to take care of the family. Thats how moms are. I know in your heart you would do anything for your family. That may not include phone acting. I know I would walk on fire for mine if I had to.


God Bless All

[This message has been edited by webmom76 (edited March 07, 2001).]

---

I used to be a lurker on this site but had to sign up to post a rejoinder. Webmom76, you talk about being a strict Catholic, then you should be able to verify where the Catholic teaching encourages this kind of 'acting'!
I am an amateur Catholic apologetic and it is pronounciations like you have made that give the church a bad name. Many wrongs go on by those inside the church and she weeps as she gets scandalized so frequently. The Lord Jesus refused to turn stones into bread when satan asked him to.
Phone sex is wrong for Catholics, Protestants, Jews, Moslems, Traditional African religion practisional and many others that I can name. I am Catholic and I can attest with what I know and documentation available even on the web for what the church teaches.
If you do this and are struggling to give it up, then please do and pray for the grace to succeed. However, do not advice others to join.
Ethical Relativism in this society is so apalling(sp?)!


IP: Logged

dovey
New to WAHM.com
posted February 26, 2004 06:45 PM

---

Though shall not judge.

All I have to say!
And no I am not a sex phone operator.

IP: Logged

mizchulita
New to WAHM.com
posted March 09, 2004 10:04 PM

---

Wow--this topic has really generated some responses! I also had to sign up in order to post my 2 cents!

I don't think it is for us to condemn activities which take place between two consenting adults. However, and keep in mind I am coming from a secular perspective here, I do think that we as women should consider the effects that this particular activity may have on our self-esteem, our souls, our hearts. After a while, some women may come to feel demeaned by being defined (careerwise) as a sex object for hours every day. Also, since some of the men who use the service are disturbed in some way, even if they are just very lonely, you are opening yourself up to taking on their burdens. I don't see how this cannot affect a person after a while. So before you worry if you are hurting your children or cheating on your husband or whatever, consider whether it is the best thing for your SELF.

Of course, phone sex is certainly not the only thing that has the possibility of demeaning a person. Working in a job where one is mistreated, or one's ethics are compromised in any way, where one is the target of brutal office politics....there are many ways that a certain profession or environment can be unhealthy.

Okay, I think I have given yall at least five cents worth now...;-)

------------------
Forget not that the earth delights to feel your bare feet and the wind
longs to play with your hair. --Kahlil Gibran

IP: Logged

christie2804
WAHM.com regular
posted March 23, 2004 02:42 AM

---

I do not think it is cheating as long as your spouse knows and accepts it. I do phone acting and web cam work occasionaly and my husband knows. I do it when my child is asleep. For those that are interested you might want to check out sexyjobs.com and adultstaffing.com

------------------
http://hits4pay.com/members/index.cgi?christie2804
http://www.inboxdollars.com/?r=christie2804
http://www.route66ptr.com/?r=christie2804
Http://momsmail.biz?refer=75

IP: Logged

KryptonAdmin
New to WAHM.com
posted April 09, 2004 09:17 AM

---

Greetings,

There are many smart, articulate and sexually adventurous women (both with and without children) who enjoy phone sex. Besides providing a fantasy outlet for paying clients, phone sex also provides women (and even gay men) with the means to make a decent living while working from home and on their own schedule.

If a phone sex operator has children s/he should of course be sure to protect them and prevent them from hearing or viewing sexually explicit content. Many adults who do have children also use adult toys and/or privately view pornographic videos or erotic literature. Sexuality does not just disappear when one has kids. Whether its phone sex or any other kind of sexual act, parents have a responsibility to ensure that sexually explicit materials are kept away from their children.

From my experience in working with women who do phone sex for a living either full time or on a part time basis to supplement their day job incomes, phone sex operators with children are very discreet and do their jobs when their children are: out of the home, in a different location of the home where they cannot hear anything, or asleep in another room and unable to hear/see anything.

The belief that a woman cannot be a good mother and be a professional phone sex operator at the same time is a crazy notion. In fact, many women who are mothers have phone sex for free with partners all the time.

More and more women every day are realizing that the potential income opportunites available to them in the phone sex industry are lucrative and allow them to have the greatest flexibility while maintaining their families and busy schedules. Women who reap the benefits of getting paid for their hard work and talents should be commended and not condemned. Doing phone sex and getting a pay check for it sure beats being on welfare any day.

Just my 2 cents.

Regards,
Krypton Admin

*K*r*y*p*t*o*n A*s*s*o*c*i*a*t*e*s I*n*c*

IP: Logged

katie1168
New to WAHM.com
posted April 12, 2004 01:18 PM

---

This is such a hard one! While I PERSONALLY feel that phone-sex is the same as regular sex, I also believe that everyone has to make their own decisions. If there were no ladies at home performing phone sex (with or without children there), then maybe there wouldnt be as many husbands cheating (even mentally or emotionally) on their wives...

Jobs in general that mothers shouldnt do from home...? One thing I think few of us take into consideration is the fact that working at home still means that you are working and therefore need to have an atmosphere that allows for work to be accomplished. If you have a young child that needs constant attention and you have a job that requires quiet for phone calls, the two do not mix well.

Each situation is different as are all of us... Is there a single job that we should not do from home... I guess not then.

~Katie

[This message has been edited by katie1168 (edited April 12, 2004).]

IP: Logged

phionamcree
WAHM.com regular
posted April 13, 2004 07:01 PM

---

I feel it is wrong. Married or unmarried. Parent or not. Morally, phone sex is wrong. That is my opinion. I would flip burgers, walk dogs, scoop out stalls, clean garbage cans or scrub toilets in the bus station before ever considered phone sex as an employment option.

The one thing that concerns me more than anything in the posts I have seen is that many of you saying, "Phone sex is alright if ya need the money..." are also saying you're Christians, or 'moral people'. I imagine all of you also have conversations with friends and family about how terrible the world is these days. It seems to me, that by actively participating or even by simply passively condoning immoral behavior, you are only further serving the state of the world today. The way I see it, if you actively participate or passively approve of unethical behavior, you have no room to be upset about how bad our society has become. Why? Because your actions or inactions have helped society in the downward tumble.

IP: Logged

wolfshadow9
New to WAHM.com
posted April 22, 2004 01:29 AM

---

Anyone with half a brain and any morals would come to the conclusion that YES a WAHM doing phone sex is adultery. You can try and give all forms of justification for it. It doesn't matter if the woman is just "acting". She is contributing to the adultery of other men. What if her husband was calling in? Supporting the "service" is supporting the degradtion of women, of the sacred act of procreation (which should be in marriage only), of her marriage, children, and herself. No self respecting person would lower themselves to that level. Especially for money- there is really no difference between phone sex and prostitution.

IP: Logged

christie2804
WAHM.com regular
posted April 23, 2004 02:41 AM

---

Ok well everyone is entitled to an opinon. But if you want to say that "pretending" to have sex is wrong, immoral and being a cheater..what about actresses and actors that "pretend" to have sexual relations in movies. And these even happen in PG-13 Movies. So is that ok....Is it wrong for married women and men to be kissing and rubbing all over another actor or actress in a big budget movie?? When you watch movies and you see your favorite actress/actor and they are doing a romantic scene..do you turn it off and throw stones cuz in real life they are married. Is called Phone acting for a reason..It is not real sex....it is all pretense....I would rather my husband talk dirty to a woman on a phone that he would never meet to release some sexual fantasy..then to act on it...Think about this next time you want to pass judgement on someone!!

IP: Logged

JenniMommyof2Boys
WAHM.com regular
posted April 24, 2004 08:58 PM

---

If it's ok with YOUR husband then it's none of anyone elses bussines.
No one condems actors on screen (I'm not talking about pornos) for doing thier job when THEY act out a love sceen. Just because it's Hollywood it's glamor makes it better?
If you're comfortable, your children aren't exposed to it, and your hubby is ok, hey, bring on the paychecks

------------------
Jenni
Mommy of Hunter and Elijah
[email protected]

[This message has been edited by JenniMommyof2Boys (edited April 24, 2004).]

IP: Logged

Mami1999
New to WAHM.com
posted May 15, 2004 10:49 AM

---

quote:

---

Originally posted by wahmcheryl:
Are there jobs a work-at-home mom just shouldn't do? If a WAHM is getting paid for phone sex while the kids are in school, is she harming anyone? Is she cheating on her husband?

What do you think?

---

I personally think that if the hubby knows about it and if the kids are away from the home and its just mom home I don't see how it would harm anyone. As long as she is being discrete and only working when the children are not around. ~Mami~

IP: Logged

ttieree
New to WAHM.com
posted May 16, 2004 04:07 PM

---

I am a fairly new phone sex operator, who is happily married, & the mother of 2. I personally made the decision to get involved in this line of work after much though, may discussions with my husband, & a lot of research on the internet. At the time, my family desparatly needed the money. What I didn't realize was that all of my thought of a "get rich quick while watching t.v. & eating bon bons, while taking calls" were wrong. This is a job that requires a person to work a lot harder than one would imagine. Regardless of what situation you are in, unless you have a vivid imagination, great personality, & an open mind, you will not be a good candidate for this business. I am not ashamed of my decision & I don't feel degraded by any of my calls. My decision, in the beginning, was based solely on money. I choose to continue because I actually like this job & the people that I work with. Most of the women, in this line of work, are a lot like me...30ish & married with children. This is a choice that we've made, & I'm glad to have made mine.

IP: Logged

dorene22
New to WAHM.com
posted May 16, 2004 09:05 PM

---

I believe that people need to do what is good for them at the time. The sex industry is not going anywhere, as the demand will always be great. If a person sees where they can benefit in some form, go for it. As for working near your family, that is a personal issue. If the kids are in school, I see no problem. Children who are home would be problematic, no matter WHAT type of work at home employment their mother has. Being married, that would be up to that couple. A lot of husbands/boyfriends would no have a problem. Of course, all this contact should only be done in the course of the person's work. Any outside contact could prove to be dangerous.

IP: Logged

kaerae01
WAHM.com regular
posted May 20, 2004 10:21 AM

---

Wow, twelve pages long and this discussion is still going strong. Can't resist posting yet again, although I've already posted stating that the pros and cons need to be weighed, and that there is nothing inherently wrong with this, especially if the circumstances of the individual are so dire that it relieves suffering at home for children.

And that's really what started all this. The posting by an early poster regarding her situation, where she was in dire circumstances as a single mom and turned to this to relieve them.

I'm a Christian. Always will be. A Baptist, fundamental, so my background is strongly and thoroughly Christian (if there is such a thing).

Life happens, however. Whether we want it to or not, and although I have a great business now, like the initial poster, I was with "my back to the wall" in the earlier days of my business, and while I didn't do phone acting for the Adult industry, I did write several well paying pieces for the Adult industry.

This kept my kids from starving, and helped me support my terminally ill younger brother who also lived with me. The balance I had to strike between supporting all these individuals, who all depended upon me, and the types of jobs I could take (with limited time to spend outside the home, and a certain amount of pay that was needed), did not correspond to jobs I could attain other than this. I'm lucky. I have a talent that is marketable, and my business is great now. I no longer have to write what I don't want to write. However, this was not always the case, and I didn't have the option of turning down any jobs. The Adult industry furnishes rather well paying means of supporting one's family. For me, that was the bottom line.

Am I ashamed of this? No way. I'm admitting it here and will admit it anywhere at any time.

Am I any less "Christian" because of this? Absolutely not. I was given the choice between the Adult industry and the suffering of my family. Sometimes there is a choice, I suppose, between the greater of two situations. The suffering of my family, if I would have allowed it to continue, in my own opinion, would have been the sin. The Adult industry gave me a way out of that until I got things together with the business.

I know others will disagree, but maybe they haven't been in a dire situation. It's a lot different being "in the situation" than just talking about the situation.

Great posting, everyone, and I do respect every one else's opinion!

------------------
http://www.written-solutions.com

IP: Logged

undecided
New to WAHM.com
posted May 20, 2004 07:37 PM

---

Quite a lot of people are curious and would like more information about this subject.

Miranda Austin has written a book about being an "actress" for the last 10 years.
It is called Phone Sex.ISBN # 1-890159-48-4. - $15.95, www.greenerypress.com -

Why would you want to read this book, you might ask? Well besides being curious, she tells it all...from her 1st call forward.
You might be surprised how short these calls are ( less than 10 minutes ) and her experiences might be beneficial for those "thinking" about working in this area.

Whether you approve or not, there are books which can answer any questions you might have BEFORE you venture into the unknown.

I believe you need to be informed and this book does do that.

Undecided

IP: Logged

cidiconosa
New to WAHM.com
posted May 21, 2004 09:42 AM

---

Cheating is defined many different ways and to different levels. But I think they way to properly define it would be:

If you are doing something that you WOULDN'T do if your spouse were standing right there, then it's cheating.
Basically, it doesn't matter how YOU view the situation, if it is something your spouse would be hurt by, then don't do it dammit. It's simply a matter of respect.

If you cannot control yourself, do the right thing and tell your spouse and then go on and do it. That way you are AT LEAST giving them a chance of a choice (to accept it or not).

IP: Logged

whatabook
New to WAHM.com
posted May 21, 2004 11:49 PM

---

I did phone sex and I can tell you....from my end there was NO SEX, NO FUN, AND NO REWARD besides the measly hourly pay. In the end, IT IS JUST ANOTHER JOB full of technicalities and sales techniques. The call center I worked from was a freezing cold office filled with computers and cubicles and (gasp!) a food vending machine. The women just sat there (grudgingly) and would switch to their "sexy bimbo voices" as soon as a call came in.

Most of us were in our mid-twenties and up, plain clothed, and often tired of trying to please these men. We had to talk about things with them that were so disgusting I often lost my appetite. We usually sat there checking the timer on the computer screen trying to keep the men from hanging up before 10 minutes (or else no commission). Do you know how hard it is to keep a man from spilling his beans for 10 minutes? It's hard enough in bed, right??? When we got a break we thanked our lucky stars and got up to eat a snack and watch TV in the lounge, to get our minds off the horny men. People are making judgements about this job when they don't understand that most of the time, IT ISN'T EVEN FUN!

As for whether or not it's cheating...better that a man pay an actress for phone sex than to do go out and do it for real. At least it can't transmit disease. Many of these men had wives who were too uptight to spank them or strap something on for them, so they called us so they could do what else but TALK about it...DREAM about it...because they chose not to go any further. Phone sex is really just one person manipulating the other into spending his cash for the privilege of hearing HER voice. And that's all it is!

IP: Logged

loreliloalyn
WAHM.com regular
posted June 26, 2004 05:22 PM

---

Jobs I think work a home mothers shouldn't do at home:

Prositution (the old fashion kind)
Drug Dealing
Arson for Hire (not in YOUR house at least)
Making fire works or gun powder or building nuclear weapons
Running a meth lab
Disposing of bodies.

Other than that I think it's fair game. We've all got bills to pay.
;P

IP: Logged

TheMommySite
WAHM.com regular
posted June 29, 2004 04:53 AM

---

What an interesting topic! It seems everyone has an opinion (or two, or three...) about this one. Just thought I would briefly share my story with everyone. My husband and I decided that he should quit his job so that we could all spend more time together as a family. We found a "perfect" work-at-home job where we more or less tricked people into buying useless wholesale junk at outrageous prices. We made several hundred dollars a day doing this and so we thought all was well. We sensed somewhere deep inside that what we were doing was wrong, but we thought that God would approve because it enabled us to be at home with our then only child. I became pregnant and a bit depressed (I'm sure you all know what I mean) and began doing some soul searching. In my heart of hearts I knew what I was doing was wrong and therefore canceling out my main goal-raising my kids to the best of my ability-which meant being a good example to them. We flat out quit. My husband looked for work with no luck. I took a low paying job at a daycare which made me very sick and I had to quit. We got 3 months behind in our bills and were in danger of losing our home. I lost all hope and one night just "demanded" God help us. The very next day I received an unexpected check in the mail for $5000. My husband and I stared at it in disbelief and almost ripped it up, thinking it was just a scam to get us to apply for a loan. We decided to investigate it and found out that it was a legitimate loan that was fully approved at a 10% interest rate. We cashed it and paid the bills. Amazingly it was only the first of many unexpected sources of income that somehow found it's way into our mailbox. We pulled out of the slump and I now own several websites and my husband makes several hundred a day in the stock market. We are proud of what we do and know that we are good role models for our two beautiful daughters. Now please understand that I am not trying to preach and certainly not advising anyone to "demand" anything of God (asking wouldn't hurt though!), I just simply wanted to share my experience with anyone who might share my opinion. If you are comtemplating a job that you consider immoral just to make money, please email me and I will start a prayer chain for you (if you wish) to find you a job that you would be happier doing that DOES pay the bills.
God Bless You All
Monica

IP: Logged
Contact Us | WAHM.com
Powered by: Ultimate Bulletin Board, Version 5.44a
© Infopop Corporation (formerly Madrona Park, Inc.), 1998 - 2000.


---
Please note: Any work at home or home business advice as well as the opinions expressed within WAHM.com forums and mailing lists are not necessarily those of WAHM.com. Any advice given by forum or mailing list participants is not endorsed by WAHM.com. By participating in these discussions, you agree to allow WAHM.com and its parent company Maricle Media, Inc. and its affiliates to use, reproduce, display and distribute your contributions, in any medium now existing or hereafter developed. Your personal information will not be sold or used by WAHM.com. Use of email addresses posted on these boards for the purpose of sending unsolicited email is prohibited.
---
Copyright ©2007 Maricle Media, Inc.