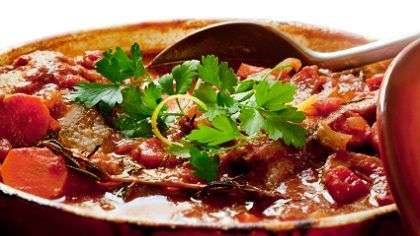 Veal Stew for those cold days. This recipe needs to chill for 4 hours or over night, so its best to prepare this meal a day a head.
Ingredients:

2 pounds veal shoulder, cut into 1 inch cubes
1 tablespoon olive oil
1 cup finely chopped onion
1 cup sliced mushrooms
1 tablespoon all purpose flour
3 tablespoons cold water
1 cup chicken broth
? cup white wine
¼ cup ketchup
1 clove garlic, minced
¼ teaspoon pepper
¼ teaspoon oregano
? teaspoon basil
1½ cups pared, cubed turnip
Procedure:
Step 1 - In large bowl place veal. In medium bowl combine broth, wine, ketchup, garlic, pepper, oregano, and basil. Pour over meat. Cover and marinate in refrigerator at least 4 hours or overnight. In medium saucepan place turnips. Add enough water to cover. Cook over medium heat 15 minutes, or until slightly tender; drain.

Step 2 - Preheat oven to 350 degrees. In large skillet heat oil over medium heat. With slotted spoon remove veal from marinade to skillet, reserving marinade. Cook veal over high heat until browned, stirring frequently, 5 to 7 minutes. Place in a 2 quart casserole with turnips.

Step 3 - Add onions and mushrooms to skillet, cook 3 minutes or until soft. Stir in marinade. Raise heat to high, stirring constantly. In small cup thoroughly blend flour and water. Stir into skillet, cooking 1 minute longer or until thick and bubbly. Pour over veal; stir well. Cover and bake 1 hour or until meat and turnips are tender.