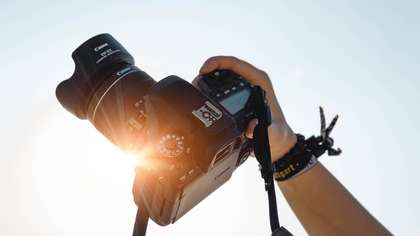 Photo by Christian Wiediger on Unsplash
Are you the kind who always has her camera with them wherever they go and forever takes pictures and adds them to the collection? Perhaps you already have a reputation for being a family photographer who has an eye for aesthetics behind. It is a clear sign that you are passionate about photography and love it as a hobby. Why not explore your hobby as a home-based business?
This is just the right page for you if you are already thinking along those lines. You already have the talent, passion, and equipment and can certainly think about creating your own studio at home and working professionally. Working out of your home will give you the freedom and flexibility to work, and you will always have time for your hobby.
Follow the give tips to start a photography business from home:
The first step is to develop a plan and objectives, for example, what kind of photographer you would like to be. Pictures and photographs are needed for different purposes, for example, business products, family events, real estate images, fashion, weddings, and magazines. Stick to one stream of the photography business based on your interest and what you want to do.
Now that everything has been put together, you need to market yourself under the business name. Create marketing materials such as business cards and brochures. You could use a photography website builder to build a website and display your talent and offers. Establish a social media account and expand the network to extend your reach. Send emails, distribute flyers, and stick-up posters about your photography business at prime spots in your area. Be polite with your customers and provide them with professional services to win their loyalty.

Before you open up your business or do marketing, conduct market research and know what is in demand and who are the key competitors in your area. Learn about the prospective customers, their needs, and if there is business potential in your venture. Once you know what to do, develop your business plan, marketing strategies, financial projections, pricing structure, etc.

Decide the space and where and how you are going to set up the business. Now that you are planning to run the business professionally and form your home designate a part of our hours where you can work without disturbance. The room should be spacious enough to handle your customers and equipment and leave a good impression.

Buy the required equipment for your business, and you may need to purchase a professional camera, advanced lenses, and other necessary accessories for photography. For example, you will need to invest in backdrops, lighting, and props.

Look for other ideas that can differentiate your photography from others and set you apart from your competition. The idea is to get more customers and differentiate yourself in business. You could attract business by providing a unique style of photography or giving them some great offers.

Build your portfolio; the more diversified your portfolio, the more clients you will attract. Be confident about the pricing packages; if you want, you can hire an accountant to do the business paperwork. You can keep practicing and hone your skills to upgrade your talent and portfolio

If you want to run the photography business professionally and be successful in the long run, in that case, you need to make the right plans and design a professional studio with the best equipment possible. Apart from the talent, you will need the business acumen to run your venture profitably and develop the reputation of a good photographer.