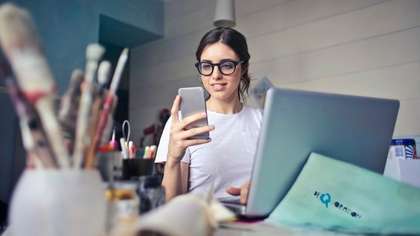 Although we don't need to be physically present at work, we should maintain some of the office routines. For example, if you work from 9 AM, don't sleep until 8.30 because you certainly wouldn't if you had to go to work. Give yourself some time to wake up, have a cup of coffee, and breakfast. This is especially important for those who aren't "morning people". Working in your pajamas might seem fun, but it usually isn't a good choice.
Casual clothes
Working in comfortable clothes instead of in pajamas creates the feeling that you are awake and ready to go. Avoid feeling trapped by work in your own home by setting a dedicated area for a home office, and comfortable but nice clothes that you would wear. Even little pieces count. Find a perfect piece of jewelry that will make you feel presentable and fresh. Maybe discovering the beauty of raw crystals will help you get inspired. Dressing up to work from home will make you feel positive and productive. It will psychologically prepare you for the start of your workday. You will be ready to take on the world.
Get creative
Because you are at home, now you can experiment more freely with clothes you wanted to wear in the office, but you weren't confident enough. Find that skirt you bought for work but never really wore. Now is the perfect time to dress how you want, giving your outfits a little edge. It doesn't matter if there is going to be any video call. Dressing for success is the oldest psychological trick.
Business attire
For some people, formal wear helps them be more productive, especially if they need to make a video call. It isn't easy for those who are used to business suits to just switch to comfortable clothes. Even if it seems like it is liberating at first. Switching pants and a blazer for a sweatshirt affects motivation. It will intersect your routine. If you stay in your pajamas or your clothes are too casual, you will have a hard time feeling like you are ready to work. It may seem like you are at home and that you are free, but you are not really.
Workday
A workday should take its form, and clothing is something that differentiates between leisure and working hours. You don't have to choose a tie or heels, but get out of your sweatpants and hop in your favorite blouse and pants. It will help you create an office atmosphere. Work at the desk, not out of bed. Be exposed to natural light, and enrich the space with plants. Choose a comfortable chair, but not an armchair. Dress nicely to feel nice. If you are distracted by your household, put on headphones and play light music.
It's a trap!
Most people, when starting to work from home, will do it in their pajamas, or some old clothes they sometimes wear around the house. You might too. It will feel liberating, and might even give a new spin to your work tasks. Maybe your job will start to feel like something more fun, creative and liberating. But this is one of the most deadly traps ever.
As the day goes by, the feeling of the entire day being a leisure time will shift to feeling like you spent the entire day working. Because the lines between working hours and free time are going to be blurred, you will feel like you didn't move at all – physically, psychically and in your career. Every time you catch your reflection you will feel bad because you look bad.
And that is why dressing to work from home is so important. It will make a straight line between being productive at work and creative during the rest of your day. It will put you in a specific mindset that will keep you going for the longest time. There is a special joy to dress for work at home. You can experiment, get creative, and try clothes you weren't sure about before. You can also maximize your productivity and focus. It is up to you because you are calling all the shots.