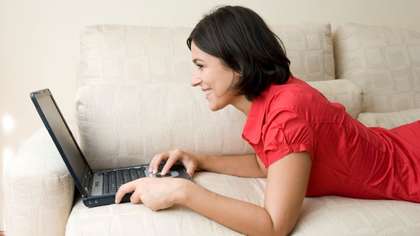 In the sometimes beleaguering quest for legitimate work from home jobs like typing jobs and data entry jobs, there are a few lessons to keep in mind. First, these kind of jobs do exist. Second, there are different varieties of home typing jobs. Third, there are a million scams, and you are wise to maintain an attitude of skepticism.
Types of Typing Jobs
Typing and data entry jobs are a broad category composed of freelance writing, survey taking, audio or voice transcription, virtual assistant and simple data entry to name a few of the most common. Some jobs, like audio transcription or medical transcription, may require special training, software or equipment. Many of the survey taking and simple data entry jobs found online, while legitimate, require you to fill out forms, commit to trial offers of products, and to give out your email address and other personal information.
The majority of home typing jobs can be found through websites like www.homejobgroup.com that specialize in posting typing and data entry jobs. This website, and many others, advertise that the jobs carry no fee. It sounds attractive, but can be misleading because they do require you to pay a monthly membership fee in order to apply for the jobs on their list! This isn't inherently a negative thing, but something to be aware of when looking for legitimate work-from-home jobs.
When to Be Cautious
You should always be cautious if a company or website asks for your personal information. If you are asked to buy something, give out your home phone number or supply your credit card information, then be sure you read everything, including the legalese and the fine print, before you hand it over. Some legitimate work from home opportunities require this kind of information, but you can be certain that all of the scammers will ask for it! In addition, before turning over personal information, look for a privacy policy, the company history, contact information, cancellation policies and money back guarantees. Knowing what recourse is available to you before you commit to trying out a new program, is key to having a satisfactory experience or a smooth cancellation.
Realistic Expectations
If you are looking for a typing job or a data entry job that requires little to no experience or training, then expect to be paid accordingly. These jobs may be easy money, but the pay is still relative to the job being performed. If you are breaking into the freelance writing market, know that freelancers with more experience will be chosen for the more lucrative assignments. The same is true for audio and medical transcription. Higher paying home jobs also generate more competition and are more scarce, so be prepared for that as well.
Home typing jobs do exist, but there seem to be many more scams than actual legitimate work-from-home opportunities. Knowing what kinds of typing and data entry jobs are available, where to find them and how to separate the scams from legitimate offers is key to making an income from typing.