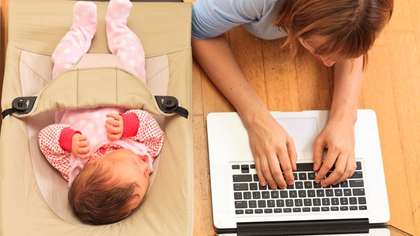 Legitimate work for stay-at-home moms is available, although it can be difficult to find in a sea of work-from-home scams. If you are a stay-at-home mom looking for employment, remember these tips for distinguishing between serious job offers and scams.
If it Sounds Too Good to Be True, it Probably Is
This is the cardinal rule of home employment. While everyone would love to be able to make $1,000 a day working from home, a dream job making $30,000 a month is next to impossible to find. Be wary of advertisements or emails that make outlandish and unrealistic claims about the amount of money that you can earn working from home.
Be realistic about the amount of income that you expect to earn with home employment. The majority of the income that you earn working from home will be similar to other income amounts that you have made in the past. Do not approach work from home opportunities as get-rich-quick-schemes.
Avoid Paying Money Up Front
You should not have to pay money up front to get hired to work from home. When have you been ever been asked to pay money to work in an office setting? Companies that ask you to pay a fee to apply for a job, or ask you to make an initial investment in their company, are usually never legitimate.
Serious Job Offers Do Not Have Serious Time Constraints
Phrases like "Sign up now!" and "This is a 30 day, limited time offer," do not usually accompany legitimate home employment. These phrases are used to rope you into a commitment (usually a financial one) as quickly as possible. Scammers do not want you to take time to consider the risks of their work-from-home venture, so they use these slogans to hook you in like a fish on a lure.
If you receive emails from companies that use these tactics, consider them red flags. These companies usually charge hefty sign up fees, and you can end up over your head and rapidly sinking before you know that you have been scammed.
Common Jobs for Mom Scams
In the world of home employment, there are several common jobs for mom scams of which you should be aware. This is not to say that every single job posting under one of these categories is a scam, however all jobs listings under these subheadings should be thoroughly investigated:
Envelope stuffing
Assembling products
Answering emails
Appointment setting
Direct selling that involves a large financial investment
Quick Tips for Avoiding Home Employment Scams
If you are a stay-at-home mom, use the following quick tips to help you avoid home employment scams:
Have realistic expectations
Be aware of spam email scams for home employment opportunities
Do not view home employment jobs as get-rich-quick schemes
Ideas for Legitimate Work-from-Home Jobs
Despite many jobs for moms scams, legitimate home employment is still available. Explore these ideas if you are a stay-at-home mom looking for a work from home job.
Start a home business selling products on eBay
Use a consignment store to sell items that you create (i.e., clothing, crafts, etc.)
Become a virtual administrative assistant
Use your own expertise and skills to become a freelancer
Become an Internet search guide
Navigating the world of home employment can be tricky. Many scam artists prey on a mother's need for supplemental income while she stays at home with her children. You can avoid work-from-home scams and find legitimate home employment if you try these tips, and never forget the cardinal rule of home jobs for moms - if it sounds too good to be true, it probably is.