| | |
| --- | --- |
| 2 Enrollment Kit Choices! | |
Welcome to the WAHM Forums - WAHM.com.

Welcome to WAHM Forums

Already registered? Login above

OR

To take advantage of all the site's features, become a member of the largest community of Work-At-Home Moms.

The advertising to the left will not show if you are a registered user.
| | | |
| --- | --- | --- |
| | | |
10-23-2011, 12:38 PM
Super WAHM

Join Date: Feb 2011

Location: WV

Posts: 216
2 Enrollment Kit Choices!
---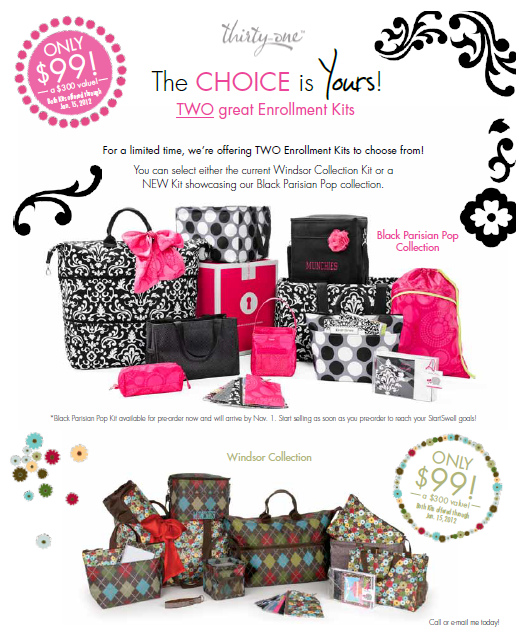 I wanted to share this - a picture of both enrollment kits that are offered now! I've had lots of people asking for pictures of each kit, so in case anyone wanted to see what each one contained.
Sponsored Links
This ad is not displayed to registered and logged-in members.
Register your free account today and become a member on WAHM!
10-23-2011, 02:56 PM
Registered WAHM

Join Date: Oct 2011

Posts: 5
---
My parisian pop kit should arrive tomorrow!!!
10-24-2011, 06:25 AM
WAHM Regular

Join Date: Jan 2011

Posts: 134
---
10-31-2011, 12:02 PM
Registered WAHM

Join Date: Oct 2011

Posts: 4
---
Do you know how long it takes to get a kit once you order it? Also, do you have a list of what is included in each of the enrollment kit options? Thanks!
10-31-2011, 12:09 PM
Super WAHM

Join Date: Feb 2011

Location: WV

Posts: 216
---
The kits take about 3-5 days - when I joined I had mine in 3 business days.

The Black Parisian Pop kit includes:
All-In-One Organizer - Textured Twill - no. 3258
Celebrate Card Set - no. 3794
Cinch Sac - Pink Circle Spirals - no. 3039
Expand-A-Tote Day Extender - Black Parisian Pop - no. 3612
Fabric Swatch Set - no. 3602
Large Utility Tote - Black Parisian Pop - no. 3121
Littles Carry-All Caddy - Pink Circle Spirals - no. 3401
Picnic Thermal Tote - Black - no. 3034
Scarf - Pink Circle Spirals - no. 3012
Small Rosette Clip - Pink - no. 3353
Square Utility Tote - Paparazzi Dot - no. 3191
Stationery Sample Set - no 1010
Thermal Tote - Paparazzi Dot - no. 3000
Zip-Up Pencil Pouch - Pink Circle Spirals - no. 3593

The Windsor kit includes:
ABOUT TOWN BLANKET
in Windsor Bouquet
#3244 $39
ALL-IN-ONE ORGANIZER
in Windsor Bouquet
#3258 $20
CELEBRATE CARD SET #3794 $31
EXPAND-A-TOTE DAY EXTENDER
in Windsor Argyle
#3612 $49
LARGE UTILITY TOTE
in Windsor Bouquet
#3121 $30
LITTLES CARRY-ALL CADDY
in Windsor Argyle
#3401 $12
PICNIC THERMAL TOTE
in Windsor Argyle
#3034 $35
SCARF
in Red Quilted Poppy
#3012 $20
SQUARE UTILITY TOTE
in Pin Dots
#3191 $24
THERMAL TOTE
in Windsor Bouquet
#3000 $15
WRISTLET KEY FOB
in Pin Dots
#3514 $5
ZIPPER POUCH
in Windsor Bouquet
#3045 $12

Plus Business Supplies:
Consultant Training Guide - Eight Steps to Success for your business - no. 1018
StartSwell Flier - StartSwell Kit with $300 worth of products and business supplies that you can earn for FREE in your first 45 days!
Marketing Materials
Use these pieces to spread the word about your Thirty-One business. Be sure to put your contact information on any items you'll be
sharing.
Door Prize Pads - Captures guest information at parties for easy follow-up and door prize drawings during the party - no. 1016
25 Fall/Winter Catalogs - no. 1001
"Get Organized" Enrollment Kit Card - Shows your kit in a variety of print families. Share with your party guests and use as a
party script
15 Hostess Cards - Steps you through coaching your Hostess to a successful party - no. 1019
25 Hostess Fliers - Guides your Hostesses through 4 easy steps to a successful party - no. 1006
10 Living Your Dream Booklets - Share the benefits of a Thirty-One business to potential recruits - no. 1002
40 Mini Catalogs - no. 1004
50 Order Forms - For your Customer orders - no. 1015
120 Party Invites - Send to guests invited to your parties - no. 1003
10 Party With a Purpose: Get Organized Cards - Shares product ideas and several product print families available. Share with
your Customers - no. 1007
15 Recruiting Cards - Helps you organize and keep track of potential Consultants - no. 1020
25 Recruiting Fliers - Highlights the Thirty-One opportunity and can be displayed at your parties - no. 1005
15 Thirty-One Note Cards - Send special notes to Hostesses, Customers or team members - no. 1023

I have these in PDF if you want me to email them to you!
10-31-2011, 12:42 PM
Registered WAHM

Join Date: Oct 2011

Posts: 4
---
Thanks so much! So which one would you choose? I like the colors of the Parisian Pop better, but the products seem to be a tiny bit better in the other one?
10-31-2011, 01:30 PM
Super WAHM

Join Date: Feb 2011

Location: WV

Posts: 216
---
Honestly, the different with the Cinch Sac being in the Black Parisian and the Blanket in the Windsor - I've had more customers ask to see a Cinch Sac than the Blanket. So in my opinion I'd rather have the Black Parisian kit! ( I am jealous of new consultants getting the choice
)
10-31-2011, 07:28 PM
Registered WAHM

Join Date: Oct 2011

Posts: 5
---
Hi,
Im thinking of joining also. Not sure if now is the right time though. I see that these are avail until mid January...do you know when the new kits will be announced?
Thanks
10-31-2011, 07:35 PM
Awesome WAHM

Join Date: Jul 2008

Location: United States

Posts: 521
---
New kits are announced in January but I don't think they are available until Feb for the Spring line. I love the black parisian pop kit! I'm jealous, too, that I missed out on that one! I almost didn't join because I really wanted that print but it wasn't available. Glad I did though...having so much FUN!
__________________
Janine Aguero 602-481-4817
10-31-2011, 07:47 PM
| | | | |
| --- | --- | --- | --- |
| | WAHM Fanatic | | |
---
The items in the Spring/Summer enrollment kit will be announced around Jan 7-8. They will be available to all new consultants who enroll beginning Jan. 15.

This is my *opinion* but the Black Parisian Pop has been EXTREMELY popular and I would be most of the items will be carried over to the new catalog. I'm not sure about the Windsor Bouquet.

Me personally? I would join now. The holiday selling season is just getting started, the thermal tote sale starts Dec. 13, there will be opportunity to earn and/or purchase the Spring/Summer add-on kits at the beginning of January, you can attend the November C&C meeting and January product reveal movie.

So much going on and so much opportunity...you aren't going to want to miss it!!
__________________
Angie Kerr ~ Senior Executive Director ~ Thirty-One Gifts
Founding Member of the Thirty-One Gives Care Council & 2013, 2014 and 2015 Leadership Councils
This ad will disappear if you login
---
| | | |
| --- | --- | --- |
| | | |
Posting Rules

You may not post new threads

You may not post replies

You may not post attachments

You may not edit your posts

---

HTML code is Off

---