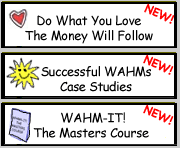 From the FTC:




WAHM.com Boards
WAHMs in Network Marketing
What product/service does quicklister promote?


profile | register | preferences | faq | search
Author
Topic: What product/service does quicklister promote?
TiffaniS
WAHM.com regular
posted April 08, 2005 10:21 PM

---

I've noticed their website ads for a while now but I can't figure out who they are.

Has anyone requested information about this company?
http://sp.quicklister.com/1684-2/

One site I ran across said not to contact him unless you had at least $1000 to start but what is the product or service?

Just curious...I'm not looking for a new opportunity

TiffaniS


IP: Logged

TonyRush
WAHM.com regular
posted April 09, 2005 09:30 AM

---

Tiffani, Quicklister is actually a 3rd party company that offers websites to Liberty League International Associates.

If you're looking for information on Liberty League International, you can visit the links below. I started with Liberty League about 6 weeks ago and have done extremely well. I did $4,000 on Friday (yesterday) alone.

Let me know if I can be of assistance,

Tony Rush
Click here to watch "The Liberty League Story" online...

To request information, visit http://www.tonyrush.com


IP: Logged
Contact Us | WAHM.com
Powered by: Ultimate Bulletin Board, Version 5.44a
© Infopop Corporation (formerly Madrona Park, Inc.), 1998 - 2000.


---
Please note: Any work at home or home business advice as well as the opinions expressed within WAHM.com forums and mailing lists are not necessarily those of WAHM.com. Any advice given by forum or mailing list participants is not endorsed by WAHM.com. By participating in these discussions, you agree to allow WAHM.com and its parent company Maricle Media, Inc. and its affiliates to use, reproduce, display and distribute your contributions, in any medium now existing or hereafter developed. Your personal information will not be sold or used by WAHM.com. Use of email addresses posted on these boards for the purpose of sending unsolicited email is prohibited.
---
Copyright ©<%=Year(Now())%> Maricle Media, Inc.