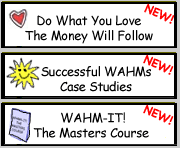 From the FTC:




WAHM.com Boards
WAHMs who homeschool
Does anyone use the Discovery Toys Think-It-through Tiles?


profile | register | preferences | faq | search
Author
Topic: Does anyone use the Discovery Toys Think-It-through Tiles?
familytoys
WAHM.com regular
posted April 06, 2005 02:36 PM

---

I am putting together a flyer for homeschool moms, and was wondering if anyone has a testmonial. I know a lot of homeschool moms use them.

Thanks!

Debbie

------------------
Debbie, Discovery Toys Group Manager
www.discoverytoyslink.com/debbie
2005 Los Cabos Trip Earner & President's Club Achiever

Playful Moms Needed!

Play with your children! It's the best investment you'll ever make!

IP: Logged
Contact Us | WAHM.com
Powered by: Ultimate Bulletin Board, Version 5.44a
© Infopop Corporation (formerly Madrona Park, Inc.), 1998 - 2000.


---
Please note: Any work at home or home business advice as well as the opinions expressed within WAHM.com forums and mailing lists are not necessarily those of WAHM.com. Any advice given by forum or mailing list participants is not endorsed by WAHM.com. By participating in these discussions, you agree to allow WAHM.com and its parent company Maricle Media, Inc. and its affiliates to use, reproduce, display and distribute your contributions, in any medium now existing or hereafter developed. Your personal information will not be sold or used by WAHM.com. Use of email addresses posted on these boards for the purpose of sending unsolicited email is prohibited.
---
Copyright ©<%=Year(Now())%> Maricle Media, Inc.